Adventure, control, and comfort – the Viaje XL Shimano 105 did it all.
Tackling Any Terrain
The Viaje XL Shimano boasted the LongBow FlexStay frame but in steel form. It maintained the top-notch elements of the frame with excellent ride quality and minimal vibration. The addition of a tapered carbon fork made this the bike for all adventures. From backwoods roads to gritty gravel, the Viaje XL Shimano was capable of handling everything that was thrown at it.
The signature frame was also equipped with a tapered head tub and an oversized BB386 Evo bottom bracket. This resulted in greater power transfer, allowing the rider to get more out of their bike.
Guaranteed Durability
The Vijae XL Shimano was specifically designed for adventure. The steel chosen for this bike was high end 4130 Chromoly double butted steel tubing.
The stronger tubing allowed Volagi to use smaller diameter tubes and to construct a more compliant ride. The durability of the steel also made this is a bike that you take on any road. At the same time, the properties of steel still allowed for a high quality, low weight, and durable ride.
Related Posts:
Ultimate Customization
The Vijae XL Shimano allowed riders to have the pick of their tires, thanks to the clearance for bigger tires. From 25mm road tires to 42mm knobbies, the bike could take it all.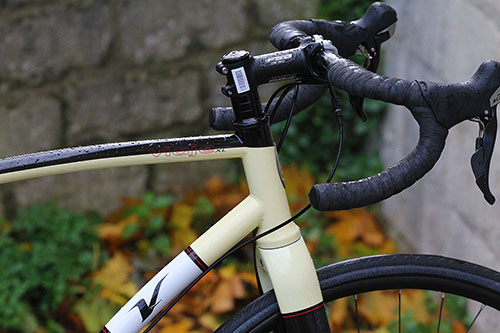 It wasn't just about choice, though. The bike was designed to adapt to each type of tire beautifully. It didn't matter what you used, you could guarantee that the bike still remained agile, responsive, and handle the hardest of tracks.
Excellent Control
Volagi really was ahead of its time in giving road bikes disc brakes. As a result, the XL Shimano 105 boasted excellent control and immense stopping power. This made the bike even better suited to rough and rugged conditions.