Vilano Bikes is a brand that offers durable and lightweight bicycles at reasonable prices. They are best for beginners and are offered in multiple models and speeds. The braking system on each of Vilano's bikes is great for each model's intended discipline
After testing a variety of Vilano bikes and going through several bike reviews from a wide range of buyers, the Vilano Diverse 3.0 is the best available from them. It's not the only one though. Besides the Diverse 3.0 people all over are raving about products designed by this manufacturer for adults, teenagers, and even kids!
This round-up offers information about the pros and cons of each product. It describes each product's intended use. Vilano Bikes are not the most expensive or well-known models. They have a solid place in the beginner category. They don't cost a ton of money either. If you are just getting into riding, whether it's to maintain your fitness on the local bike path, shredding beginner singletrack, or keeping up on your local shop's weekly road ride, Vilano has a model for you to purchase. Check them out below.
Our Best Vilano Bikes
Vilano Bike Reviews
The Vilano Diverse 3.0 is an all-around best-seller and consumer favorite with top-ranking reviews. It is a hybrid road bike with fabulous features including responsive disc brakes, 24-speeds, a durable double-butted aluminum frame, and fast-rolling 700c wheels. All these components are included for a price that won't break the bank. Its 3x8 gear range allows riders to maintain speed on climbs and power across flats.
Disc brakes are an impressive feature on the Diverse 3.0. They allow you to stop on-demand in all weather conditions. This includes wet rainy conditions. Many competitors use linear-pull or caliper brakes on entry-level hybrid bikes. The Diverse's braking system outshines them all!
It has fast-rolling 700c tires and a 24-speed bike, and a front derailleur with three gears and eight in the rear. This allows people to ride on paved surfaces at quick speeds. These features increase the bike's versatility for not only your daily commute but also for keeping up with cycling pals on group rides.
The aluminum frame of the Diverse 3.0 is durable and light, at only 26.5lbs. It can withstand regular riding to work, on errands, or with friends.
 The Vilano Diverse 3.0 is not without issue in terms of the componentry or design. The tires are not the highest quality and the saddle is not the most comfortable. These components are extremely easy to upgrade.
Pros
Aluminum frame
Disc Brakes
Upright rider position
700c wheels
Versatile
24-speed drivetrain
Cons
Included tires are not the best quality
Saddle is uncomfortable
The Vilano R2 Commuter is second in our brand round-up. This is a sleek, drop bar bicycle available for bikers that want to travel on pavements in the city. The 6010 double-butted aluminum frame is durable. The bicycle is available in three frame sizes, from 50cm to 58cm. The drop bars offer hands, comfort, confidence, and control maneuvering. This allows a wide range of average customers to find greater comfort on the commuter that can also meet your need for a road bike.
Consumers agree, the Vilano R2 Commuter is rolled smoothly and is easy to shift. It has a wide gear range with a 3x7 drivetrain. The thumb shifters make gear changes smooth and easy for riding up climbs and maintaining speed on flats. The 700c wheels are superb. They are quick-release, making it easy to change remove them on the go, or to fit it in your car's trunk when driving home from meeting up with a friend to pedal.
The caliper brakes are sufficient in the R2 Commuter's package. The brake configuration allows riders to stop in most conditions. Disc brakes would be a better option though according to many reviews, as they are more responsive on wet days. The tires and seat are a problem, according to many reviews. They don't impact its performance greatly. They can easily be traded to improve your overall riding experience.
Overall, the Vilano R2 Commuter is affordable, dependable, and quick. Beginner cyclists looking for a versatile drop bar road bike for commuting and tagging along on a weekly ride with friends should consider this item. It will surely meet the needs and style of their riding purposes.
Pros
Light
Aluminum frame
Caliper Brakes
700c wheels with quick release
21-speed
Thumb Shifters
Cons
Poor-quality tires
Uncomfortable saddle
Next up in our round-up of the best Vilano bicycles is the Vilano Blackjack 3.0. This is a 29-inch, beginner hardtail. It has a front suspension fork that has 80mm of travel and a lockout. The fork helps soften blows on the trail and assists anyone maneuvering over rough tracks. Using the lockout on paved tracks can help one utilize this bike for errands and commutes off the trail. The alloy frame is lightweight at just 30lbs. This is not heavy compared to other starter bicycles in this category. Fast-rolling 2.1" x 29" wheels and tires allow riders to roll quickly on a variety of trails. Vilano offers the Blackjack 3.0 with mechanical disc brakes. These allow you to stop quickly in wet and dry conditions. The gearing is 3x8. With 24 gears and wide bars, the Blackjack 3.0 is capable of tackling a variety of terrain, making it ideal for trails.
Unfortunately, the tires are not the best quality. Saddle specifications are also a common issue among riders. The front fork is on the lower end in terms of travel. Most forks have 100mm of travel or more, for greater comfort, control, and fun.
Fortunately, these issues are easy to resolve. This ride is not meant for technical terrain. Those looking to take on drops and jumps may want to consider a different rig.
Pros
Affordable price
Light, aluminum frame
Front suspension fork with lockout option
29" wheels
Wide gear range
Disc brakes
Cons
Saddle, not the most comfortable
Tires wear out quickly
Not meant for technical terrain
The Vilano Shadow is another excellent entry-level bike from Vilano. It is their road bike model with 14 speeds, caliper brakes, and drop bars. The bicycle is easy to shift with integrated shifters. The aluminum frame is designed to promote aerodynamics. It's light at just 25lbs. This is a fine feature for an entry-level road bike. The bike is also versatile. It's a great commuter in addition to serving as your bike on group rides. The slim 700c tires roll quickly and are best-suited for pavement. The drop bars place riders in a position of control and comfort. Vilano offers the Shadow 3.0 in three sizes. This allows riders of many sizes to find the ideal bike for their height.
The Shadow 3.0 does not come with a kickstand. Buyers only have a couple of complaints concerning this road biking machine. Some bike reviews on this item complain that the wheels were not true and the bicycle needed to be serviced after assembly. The Shadow 3.0 is only a 14-speed. This is limited compared to other items in its category. The caliper brakes are sufficient, with the exception of riding wet conditions. Braking systems that feature disc brakes often have greater performance when cycling in the rain.
In our option, this bike is a budget option for beginners looking to keep up on a group road ride.
Pros
Affordable
Lightweight
Durable
Aerodynamic
Drop bars
Versatile
Multiple sizes available
700c wheels roll fast
Cons
Kickstand not included
Only 14 gears
Caliper brakes instead of disc brakes
Issues with wheels being untrue
The Vilano Urbana is a single-speed folding bike. It is the lightest Vilano Bike in this roundup. Peddlers looking for an affordable, compact, commuter bike should look no further. The Urbana has excellent performance on flat roads and pathways in the city, with only one speed. The 20" wheels paired with the durable aluminum frame is designed to allow riders up to 200lbs to use this bike. Vilano specs this budget folding bike with mounts for water bottles and a rack. Securing a rack to it can enhance your commute on it. The Urbana folds up well to carry on the bus, fit in the trunk of a car, or store under a desk or in a closet. This makes it ideal for cruising around in the neighborhood.
The handlebars and seat move up and down and can be difficult to tighten. The stock tire setup is not the highest quality and can wear or develop punctures after minimal use. This bike is not meant to tackle steep hills. This limits the paths it can traverse.
The Urbana is best for city riders and traveling short distances. It's ideal for stable, flat, paved roads, according to most bike riders. Riders living in a hilly or bumpy area may want to look elsewhere.
Pros
Compact
Affordable
Lightweight
Mounts for a rack and water bottle holder
Can support 200lbs.
Cons
Tires wear quickly
Handlebars are difficult to secure in place
The seat post slips often
Does not do well on hills
Not the best for long-distance riding
The Vilano City Bike is the last bike in our round-up. It is a 7-speed, attractive, city bike. It is available with a step-over or step-through design, making it great for men, women, and cyclists with knee problems that prevent them from lifting their legs over the step-over frame. The price is affordable for most riders and has easy-to-maintain linear-pull brakes. Some incredible features on the Vilano City Bike are the twist-grip shifters and locking kickstand.
The steel frame is durable, but also heavy. The saddle is wide, comfortable, and has coil suspension. The chain is not the best quality. The bike's weight is another common complaint. With only 7-gears, it is limited to flat and gradual climbs.
Overall, the Vilano City Bike is durable, affordable, and great for rides in the city. It is attractive, with a retro look too!
Pros
Attractive retro look
Twist grip shifter set-up
Linear pull brakes are easy to maintain compared to other braking systems
Affordable price
Comfortable saddle
Durable frame
Step-over or step-through option
Cons
Heavy
Limited gear range
Poor-quality chain
Choosing The Right Bike
Vilano offers many different types of bicycles. Most of Vilano's bicycles are versatile and can be used for more than one riding discipline. The journeys you wish to take by bike will help you determine the right bike for your needs. Below, I will share some basic information on each of the categories offered.
Hybrid Bikes
Hybrid bikes are versatile and comfortable for most people. They place riders in an upright position. They typically have flat bars or handlebars with a slight rise. Some hybrid bikes have kickstands, mounts for a rack, and a wide seat. These features ensure maximum rider comfort. If you are looking for a bike to ride on pavement or bike paths primarily, a hybrid bike may be your top choice. The Vilano Diverse is Vilano's star bike. Hybrids are great for people looking to get into the riding game but are not sure what their primary use will be.
Road Bikes
Road bikes are typically designed to maintain speed on pavement. Vilano Bikes offers their road bikes with dropped handlebars that place riders in an aggressive riding stance. The frame of a road bike is designed to be more aerodynamic. Road bikes have skinny 700c wheels that roll quickly. Road bikes can often be used for commuting in addition to riding for fitness.
Overall, if you are looking for a Vilano bike that can help you maintain your fitness and use to cycle on pavements, a road bike is a good choice. Vilano's Shadow 3.0 is a popular choice among riders searching for a road bike.
Mountain Bikes
Mountain bikes are best for trail riding and rougher terrain. They can be full-suspension or front suspension only. Those with front suspension are often called hardtails. If you anticipate riding singletrack trails, or going off-road on your bike you will need a mountain bike. Mountain bikes vary in their specs and designs. Some are great for drops, jumps, and technical terrain. Your riding ability may help you determine the best mountain bike available in a large selection of options on the market today.
Vilano's Blackjack 3.0 is an aluminum hardtail mountain bike with only 80mm of travel. It is part of the entry-level mountain bike market and will do best on gravel roads and beginner trail rides. It is not meant for downhill runs or big jumps and hits. If you want to go off-road, a mountain bike is your best option.
Folding Bikes
If you are looking for a bike to commute on that can be easily stored and transported, a folding bike is a good option for you.
Folding bikes often have a smaller number of gears and smaller wheels. They usually only come in one frame size. These bikes are versatile, and often have room for water bottle cages and racks. Folding bikes can be folded and are often lightweight. This makes them easy to transport in a car or bus, and store at work or home. If you are looking for a commuter bike in a relatively flat city that you can store under your desk, a folding bike is an excellent choice. The Urbana is Vilano Bike's popular folding bike.
No matter what your cycling needs are, there is a bike out there for you. Vilano offers a wide variety of bicycles that meet the needs of many. Buying one of the bikes from this manufacturer may be the start of a new passion for riding in your life.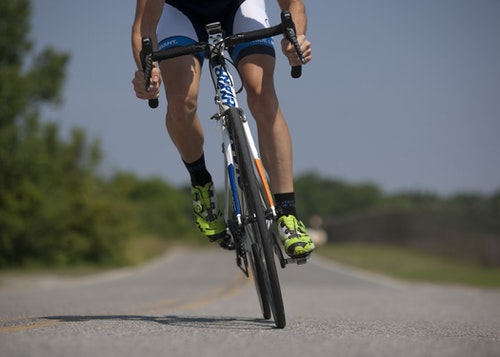 FAQ
Are Vilano Bikes good?
Vilano Bikes are excellent bikes for customers who don't want to make a large investment but still want a quality product. They have durable frames, are constructed of aluminum or steel (depending on the bike), and are very versatile.
Most Vilano bikes include water bottle cage mounts and rack mounts. There is room to attach a kickstand to the bike if it is not already included. Bicycles, such as the City Bike, come with a rack. Vilano offers most bikes with a wide range of gear. Most Vilano Bikes have 7-24 gears. This wide gear range allows riders to traverse a great variety of terrain. Vilano offers many of their bikes in multiple sizes.
All Vilano Bikes come with pedals. This is a feature some people love because the bike comes with everything you need to hop on and ride, once it is assembled. Not all bike brands include pedals.
Riders agree that riding something sized for your height promotes greater comfort and control on any bike. The models offered are not the most lightweight in the world, but they are not extremely heavy either. Take a look at Vilano Bike Reviews and you will find that there are few complaints about bicycle weight from customers.
Keep in mind, Vilano Bikes are best for beginner, entry-level riders. Vilano does not use the highest quality tires, brakes, or saddles on their bikes. The manufacturer does not offer carbon frame options to cyclists. Vilano's bikes are available in limited color schemes, just one or two. This may disappoint some bike riders. These components can easily be swapped to increase the bike's comfort and performance. Vilano Bikes has mountain bikes, such as the Blackjack 3.0, in its lineup. This bike may be great for beginner singletrack. However, it is not designed to take on downhill runs and technical terrain where the bike will suffer great abuse.
Overall, Vilano Bikes are great for beginners or riders looking for a basic option. They are versatile, affordable, and overall durable. Vilano offers everything from children's bikes to bikes for adults. There is something for people of almost any age and size.
Where Can I Buy A Vilano bike?
Vilano Bikes can be found primarily on Amazon. Amazon offers all of the bikes in our round-up. You may also find Vilano Bikes at Overstock.com. They are not widely available in the bike shop setting, though you may be able to find one in a used bike shop.
Conclusion
Vilano Bikes are affordable bikes that are well-constructed and are best for new riders. They can be used for multiple surfaces, fitness, and commuting, depending on which bike you choose. Vilano makes a bike for almost every discipline of riding at the beginner level. They offer road bikes, hybrid bikes, folding bikes, and mountain bikes. Vilano makes the bikes with aluminum and steel frames. Aluminum rigs are often lighter in weight than other entry-level competitors.
The most common problem described by riders with Vilano's bikes is the stock tire quality and saddle comfort. Fortunately, these parts can easily be upgraded to improve your ride. Some users also found that due to the entry-level components on Vilano bikes, they could not withstand the abuse of a bike constructed with higher quality parts or carbon frames.
Overall, if you are a rider looking for a versatile starter bike that is not going to break the bank, Vilano offers several excellent choices. Check them out today!