(Product prices are subject to changes and could be higher than the stated price range.)
Most of us probably discovered our love for cycling while riding our everyday commuter bike. It's quite unlikely that our first bike was a $5000 road bike.
But once you start racking up the miles, you eventually outgrow your entry-level bike and it's time to level up.
Is picking a road bike superior in terms of features to your entry-level bike and not making a hole in your wallet, tough?
It's not! All you have to do is read our guide on the 10 best road bikes under $2000 and you'll have your next bike in no time.
Our Top Picks
A quick summary of our product roundup with some important information:
10 Best Road Bikes under $2000 – Reviewed
If you look for road bikes on Amazon, Tommaso is a brand you'll see on every page of your search results.
The Tommaso Imola is considered an entry-level bike but is highly rated and suitable for both advanced and entry-level riders.
The 6061-aluminum frame which is quite durable along with the endurance type geometry screams comfort. The top tube and the seat post is angled in such a way that the rider can continue for long periods and not feel uncomfortable
.
The steel fork can be seen as a blessing or a curse. While it adds more weight compared to an aluminum or carbon fork, the steel fork dampens vibrations more efficiently than aluminum. A steel fork is not usually seen in an entry-level bike.
The bike is equipped with the Shimano Claris groupset. The drivetrain, shifters, derailleurs, and brakes are all from the Claris groupset and not mixed and matched from a different groupset. This increases the compatibility of the components for a much smoother ride.
The front and rear wheels have 20 and 24 spoked respectively and sports their own Tommaso Corsa TC -20.
PROS
• 3 different colors
• Steel Fork: Better Absorption of Vibration
• Complete Shimano Claris Groupset
CONS
• Steel Fork: Adds Weight
• Wheels lack Aerodynamic Shape
SAVADECK bikes are so aesthetically pleasing that 3 out of 10 bikes on our list are manufactured by them.
One look at the lightest bike on our list at only 17.2lbs (7.8kg) and you're going to fall in love.
The frame, fork, seat post, handlebar, and wheelset are all made of carbon fiber. Quite literally almost the entire bike is made of carbon fiber and it is reflected in the price. It's the most expensive bike on our list. The lightweight carbon fiber frame makes this bike undoubtedly the best race bike under $2000.
The entire Shimano Ultegra 800 groupset is included in the bike. This Shimano groupset is high up the groupset hierarchy and is highly rated.
The Continental Ultra Sport II tires used disappoints and wear out quickly. It's recommended to invest in a better pair of tires.
PROS
• Carbon Frame and components
• Shimano Ultegra 800
• Lightweight
• Lifetime frame and fork warranty
CONS
• The paint peels off easily
Another killer in terms of style and aesthetics. The Warwind 3.0 is also bought to you by SAVADECK.
Almost all SAVADECK bikes are made of carbon fiber and are incredibly lightweight. The Warwind 3.0 is about 4 pounds(2kg) heavier than our lightest addition.
This affordable road bike is extremely durable and comfortable. Carbon fiber is not only lightweight but is also an excellent shock absorber. The entire bike is aerodynamically contoured.
The group set used is the Shimano SORA, which is an entry-level groupset when compared with the Shimano Ultegra 800. The use of a low-level groupset is reflected in the price when comparing with the SAVADECK Phantom 2.0.
The oval concept 400mm wheel along with the Continental Ultra sport II can be easily controlled with the V brakes that are used.
PROS
• Carbon Fiber
• Lightweight
• Aesthetically pleasing
• Solid V brakes
CONS
• No Kickstand
• Wheels are only suitable for paved roads
Our second most expensive bike on this list is also our second lightest, weighing only 2 pounds (1kg) heavier than the SAVDECK Phantom 2.
What's interesting about this is that the bike frame is made up of aluminum. This is made possible because DIAMONDBACK uses a butted aluminum alloy to make the bike weigh lighter than some of the carbon fiber frames on our list.
The carbon fork is quite sturdy and complements the butted aluminum frame perfectly. In terms of geometry, it is shaped more like an endurance bike therefore you can expect smooth long rides with this bike.
The bike is fitted with a Shimano 105 groupset drive train. The Shimano 105 just before the Ultegra and is 3rd best groupset in the Shimano hierarchy. Even though the Shimano 105 is good, the Ultegra groupset would have done better for a bike in this price range.
PROS
• Butted aluminum frame
• Lightweight
• Ergonomic and Comfortable
CONS
• Slightly below par groupset for the price range
This entry-level road bike is highly affordable. The aluminum alloy frame with a carbon fork makes this bike quite strong and easy to maneuver. A carbon fiber fork at this price range is quite a steal.
The Shimano Claris groupset is a given in this price range and you can't expect anything higher up the hierarchy. The shifters and brakes are integrated, giving you more control in a centralized location. This means you can shift without taking your hand off the brake.
The wheels are double-walled which makes the bike extra strong. An interesting feature is that the front wheel offers a quick-release function. This is ideal for easy transportation.
A major downside is that SCHWINN only offers two sizes for the PHOCUS model. A 16-inch (41cm) Small and a 22 inch (56cm) Large.
PROS
• Carbon Fork
• Double walled wheels
• Value for money
CONS
• Only 2 sizes
The heaviest entry on our list is 30lbs (14.2kg). If you know anything about bike frames, you would have guessed it.
This bike is from the Italian bike manufacturer Cinelli and consists of a steel frame. The fork is also made up of steel, while this adds weight it also makes up in terms of shock absorption, giving you a smooth ride. The steel frame is double butted, hence the relatively low weight for a steel frame.
The front and rear derailleur and shifters are from the Shimano Sora groupset. The double-walled Alex/Shimano 700C wheelset adds overall strength to this bike. The tires used are WTB Riddler 700 x 37c. It's a great pair of tires and is suitable for paved, gravel, and dirt roads.
The bike is also coated with an electrodeposition painting which prevents rust formation.
PROS
• EDP coating
• Steel Fork
• Tires are suitable for paved, gravel and dirt roads
CONS
• Relatively Heavy
The double-butted aluminum frame is another lightweight addition to our list. Almost everything on this bike is made up of aluminum including the brakes.
The cheapest bike on our list is a perfect entry-level bike for casual strolls or even racers who are just entering into the sport. The saddle is also designed with comfort in mind and can be used for a long period without any discomfort. Therefore this bike a perfect match for anyone looking for the best endurance road bike under $2000.
The bar top SHIMANO SL-A050 shifters are made easy to shift between the 21 speeds available. The aluminum dual pivot brakes are quite powerful and have an impressive stopping force.
PROS
• Easy Assembly
• Pretty Affordable
CONS
• Tires are low quality
• Delay during gear shifting
The only other entry on our list with a steel frame.
The Giordano Trieste is not your everyday road bike. It is marketed as a gavel bike instead.
A gravel bike is the same as a road bike but can handle any type of terrain. It is ideally a hybrid between a road bike and a cyclo-cross bike.
The steel frame and fork of the Trieste makes it ideal for a vast range of uses such as commuting, trail riding, or as a road bike. The doubled wall aluminum 700c wheelset with stainless steel spokes are a perfect fit for a gravel bike.
The groupset used is the Shimano Claris which is a given at this price, along with integrated shifters for easy shifting without letting go of the brake.
PROS
• Versatile
• Integrated shifters
CONS
• Relatively heavy
SAVADECK manages to score 10/10 in the looks department.
The lightweight bike is made up of carbon fiber from the frame to the seat post. The frame is designed in the wind tunnel which means it is aerodynamically contoured just like other SAVADECK bikes.
The groupset used is standard at this pride range. The SHIMANO 105 groupset in the top 3 SHIMANO groupset.
The wheelset used is similar to that of the WARWIND 3.0, as are the tires. WARWIND 5.0 comes with Continental Ultra Sport II. The tires are popular in the lowest price class and relatively cheaper.
PROS
• Carbon fiber
• Lightweight
• Aerodynamically contoured
CONS
• Cheap tires
It has an aluminum frame similar to that of the TOMMASO IMOLA but with a carbon fork instead of a steel one. This is a perfect pairing for this lightweight yet extremely durable bike. Carbon fiber forks are not common in this price range and are considered highly efficient in terms of shock absorption. The fork and frame are also covered by a lifetime warranty.
In terms of geometry, it is on par with the industry standard for this price range, semi-compact and comfort centered.
Just like the IMOLA, this bike is also equipped with the entire SHIMANO CLARIS groupset. This makes the bike more efficient.
The entry level aerodynamic TOMMASO TC-30 wheelset along with Kenda's all-weather 25c rubber tires is perfect for wet conditions. The wider wheelset means more contact with the surface for a steady ride.
PROS
• Carbon fork
• Lightweight
• Complete CLARIS groupset
CONS
• Size chart is a bit off
Now that we've reviewed our 10 bikes, let's check out some things to consider before buying a road bike below $2000
Roadbike? Don't All Bikes Go On The Road?
Technically, all bikes meant for regular biking can be considered road bikes, but they are specifically designed to take you as fast as your legs can go.
Even though a traditional bike can be used for riding on roads, it isn't aerodynamically and ergonomically designed for long-distance endurance rides and racing. The seating position on a road bike is also quite different. A racing position with a bent lower back should be followed for optimal aerodynamic assistance.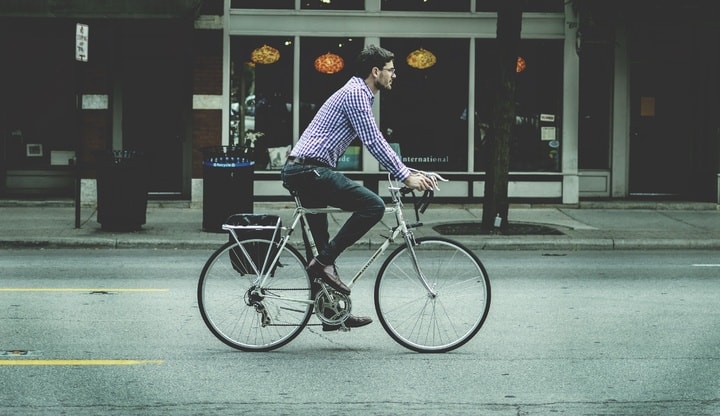 Things To Consider Before Purchasing A Road Bike Below $2000
Buying a new bike is no easy feat but with our guide, it's going to be like shopping for your weekly groceries.
WHAT FRAME MATERIAL CAN I EXPECT?
Frame material affects 2 things: Weight and Stiffness.
At this price range, you can expect three types of frames: steel, carbon or aluminum.
Aluminum frames are the cheapest and the most common option under $2000. Aluminum isn't as strong as steel. 
Therefore, to make the frame strong, extra material is used which results in thick frames. Due to the low density of aluminum, it stills end up being lighter than steel. 
Butted aluminum frames are much lighter and almost comparable to carbon fiber frames. Nowadays you'll find butted aluminum frames with carbon forks, giving you the best of both worlds.
If you're all about having the smallest possible edge, a carbon fiber frame should be an ideal fit. When it comes to performance, carbon fiber is the lightest of all hence making it the perfect choice.
SIZE
Endurance bikes and racing bikes are designed with comfort in mind. Therefore, choosing the right size is fundamental when it comes to picking a bike. Road bikes are available in different sizes to fit people of various sizes. Always check the size chart and pick the bike based on your height.
The perfect fit should allow you to reach the brakes, pedals, and water bottle cages. If you feel like you just finished a stretching session after your ride, the bike is too big for you.
GROUPSET
The groupset in a bike completely depends on the price.
Usually, in entry level bikes you'll find components from different groupset. While this works well, it's not ideal. 
You should look for a bike with a complete groupset which makes maintenance easier. The components are 100% compatible and therefore increase the efficiency of the bike.
SHIMANO and SRAM are two popular brands. All of the bikes in our roundup have SHIMANO groupsets and components.
WHAT'S THE IDEAL WEIGHT RANGE FOR BIKES UNDER $2000?
Weight and price are usually conditional. When you go up the price range, you will find better carbon fiber frames and therefore the weight reduces.
But with new and improved technology such as 'butting', affordable aluminum frames are also quite lightweight.
Our product round up ranges from 17.2lbs (7.8kg) to 31lbs (14.2kg).
Related Posts:
Conclusion
So, remember to pay attention to weight and material. Pick the right size and avoid uncomfortable rides. We hope this guide will make it easy for you to pick your next road bike.