(Product prices are subject to changes and could be higher than the stated price range.)
The number of road bikes on the market are immense. Why go through them all when you have lists like ours to help you out?
We've researched the best road bikes under $1000. So, read ahead.
The Bikes – At A Glance
Before we dive in, let's run through some of the basic specs of our most noteworthy bikes:
Disclosure: As an Amazon Associate cyclingglobal.com earns from qualifying purchases.
The Bikes – A Complete Review
Our Pick
The 6KU comes with free wheeling, so you can be as flexible as you want. When riding in rugged terrain, this is a godsend.
It comes with a steel frame. Steel has a higher tensile strength than aluminum which makes the 6KU pretty durable. Then again, steel is heavy, so we're not a fan of it.
Its ergonomic geometry makes it comfortable to ride, and so does its butted frame.
The 6KU's front and rear brakes are easy to maintain as they detach from the bike. We all know how useful this is as road bikes can get pretty messy.
Now:
Its 700x30c wheels are great as they are bigger than those of most road bikes.
The 6KU has a leather saddle so you'll feel like you're riding in style. At the end of the day, it's not real leather as it's a synthetic copy.
In terms of these features, they're better or on par with most of the bikes on our list. The fact that it's the cheapest bike we ran through made it our favorite.
Key features:
• Steel frame
• Leather saddle
• Detachable front and rear brakes
• Freewheeling
The Eurobike comes with a 21-speed drive train. This is great (but not the best) for a road bike as you have a range of speeds to tackle the most stubborn hills and slopes. Not only is it a budget bike, but it's also a budget bike on the lower end of the price spectrum. This makes it insane that the Eurobike comes with a dual disc brake system.
It has a similar frame to the 6KU's. Eurobike decided that the EURX would have a steel body. Steel is not comfortable. That being said, the EURX has a compact frame so you can get on and off it with ease.
What's more, steel is heavy! So the bike weighs around 32 pounds (14.5 kg).
The steel makes the bike more sturdy, which is why the Eurobike would last you a while, so this is a silver lining. This also allows it to carry a maximum weight of 330 pounds (149.6 kg)
Key features:
• Dial disc brakes
• Steel frame
• Maximum weight of 330 pounds
• 21-speed drive train
• Cheap road bike
The bike has a compact design. This lets you get up and off it with ease. Its stature makes it easy to carry, which can be necessary if you ride in some pretty rugged terrain.
It's lightweight. This is due to its 6061 aluminum body. That being said, a 6061 aluminum frame isn't the most noteworthy thing out there as most bikes, especially road bikes are made from it.
As it's so lightweight, its maximum weight isn't that greatest. The Tomasso can only carry up to 250 pounds (113.3 kg).
Road bikes need to have a great fork. After all, you'll ride them in a range of terrains. The Imola doesn't come with a fork worth your money as it's made from steel. Steel does a not-so-great job at absorbing shocks.
Its drivetrain is a complete Shimano Claris group set. So, it's worth every penny, but at the end of the day, a complete Shimano Claris groupset is not rare.
It's a budget bike so you're right if you weren't expecting disc brakes from the Imola. It comes with the Shimano Claris brake calipers which do a good job at braking, but they are not the smoothest.
The Imola comes with 700c tires which helps you roll up and down hills smoothly, especially since they're 0.98 inches (2.5 cm) in width.
Key features:
• 6061 aluminium frame
• 250-pound (113.3 kg) weight limit
• Steel fork
• Complete Shimano Claris groupset
• 700x25c tires
The Schwinn comes with an aluminum body. We were fond of its carbon fiber suspension fork. It makes the bike lightweight at 26 pounds (11.7 kg).
The carbon fiber fork is great at softening blows. This is why riding on the Schwinn is a dream, especially if you use the bike on some pretty gnarly roads.
That being said, carbon fiber forks are very common in road bikes which is why you'll see many of the bikes on our list having them.
While on the topic of comfort, its saddle is quick release so you can easily adjust it to your height. When you're on the go, such convenience is great.
It comes with a 16-speed drive train. Although it's not the most extensive, 16 different speeds are great for racing.
The dual disc brakes of the Eurobike are hard to beat. This is why the Phocus has brakes that can barely compete with it. It comes with pivot caliper road brakes which give you adequate stopping power but it is nowhere as good as disc brakes. This is disappointing considering the Phocus is $400 more expensive than the Eurobike.
Now:
The Phocus comes with the Shimano Acera derailleur. Not only does this mean that you can shift between gears easily, but you can do it smoothly too.
Key features:
• Carbon fire fork
• 26 pounds (11.7 kg)
• Shimano Acera derailleur
• Aluminium body
• Carbon fiber suspension fork
• Pivot caliper road brakes
• 16-speed drive train
The Premium Pick
The RALEIGH has an aluminum frame like most of the bikes on our list. In terms of what type of aluminum is used, it's the 6061 series (no shocker right?).
It comes with an aluminum alloy suspension fork which makes the bike noticeably lightweight. From all the bikes discussed so far, it's the lightest at 24.4 pounds (11.06 kg).
It comes with mechanical disc brakes which is great, but the Raleigh isn't the cheapest, especially compared to other bikes on our list. This is why we would have loved if hydraulic brakes were used. Then again, it is a road bike and they usually don't come with hydraulic brakes.
As it's almost $1000, we weren't too happy with its 16 gears, especially considering the fact that the much cheaper Eurobike has 21.
That being said, it has noticeably large tires. They're 700x35c. This means you can cover the most distance with the Raleigh by your side. Not just this, you get a comfortable ride as the tires are so large.
We think it's the best looking bike so far (soon to be dethroned by our next contender). It's jet black all around except for pastel blue accents near the wheels. This colour combination is elegant yet soft. What's more, the "RALEIGH" on its frame is in the same baby blue which is complimentary.
Key features:
• Very good-looking
• 700x35c tires
• 24.4 pounds (11.06 kg)
• Mechanical disc brakes
• 6061 series aluminum
• Aluminium alloy suspension fork
• Most expensive bike on our list
The Best Looking
Yes, it's got aluminum in its frame. Meanwhile, its suspension fork is made from carbon fiber. As we know, the 2 go well together, which is why the bike is noticeably lightweight, at around 25.4 pounds (11.52 kg).
Although the Sterrata is a road bike, it can easily be transformed into a commuter. Its frame has drillings that let you add racks with ease. This instantly makes it a phenomenal touring bike, especially when you consider it has sturdy and large 700x40c tires.
If the Sterrata wasn't on our list, we would have crowned the Raleigh as the best looking bike. But the Sterrata takes the cake. Its body is matte black except for a few neon yellow accents. This colour combination is modern and sleek.
It comes with a 3×8 Shimano Claris groupset. What's so great about this is that has 24 different speeds.
What's more:
The Sterrata comes with disc brakes. This gives you better stopping power than regular pivot brakes.
Key features:
• Very good looking
• Matte black body
• Can be transformed into a commuter
• Carbon fibre suspension fork
• 6061 aluminium body
• 24 speeds
The Forcella has a Shimano Claris shifter, drivetrain, and brake which is pretty cool, but is it something to rave about? The complete Shimano Claris groupset is appreciated, but many bikes on our list come with it.
If you were to ride on wet roads, you're going to have trouble stopping your bike. However, its gears work well in dry environments.
The Forcella is streamlined. Its agile geometry and 6061 series aluminum let it glide wherever you want to go to.
Carbon fiber is one of the lightest materials out there. This is why Tommaso used it in the Forcella's forks.
Being so lightweight, it can't carry the heaviest loads. If you're over 220 pounds (99.7 kg), the Forcella is not for you.
We have to talk about its gears. Its crankset has 3 cogs while its rear has 8. It's a good combination which is why many of the bikes on our list are 3×8.
The bulky 3×8 train lets you tackle the most stubborn hills which is noteworthy.
It comes with 700x25c tires. 0.98 inches (2.5 cm) isn't the widest tire width, so the Forcella rides smoothly. Any bumps felt would be absorbed by the handy carbon fiber fork.
Key features:
• 6061 series aluminium body
• Shimano Claris groupset
• Carbon fibre suspension fork
• 700x25c tires
• 3×8 drivetrain
The Lightest Road Bike
The Schwinn comes with an incredible frame. The fastback has a hydroformed aluminum body which means it's incredibly strong, lightweight and agile. This lets you glide fast, hence the 'fastback'.
Not only does hydro formed aluminum and carbon fiber suspension fork make the bike very lightweight, but it's also the lightest bike on our list at 20.7 pounds (9.38 kg). Its agility and weight make it the best tri bike on our list.
It comes with the Shimano 105 drivetrain. This allows for 22 different speeds, which leaves us with no complaints.
Its tires aren't the widest. The fastback has 700x25c tires, after all. Because of this, you can ride smoothly, which helps with agility.
In terms of its brakes, the Fastback has alloy dual pivot caliper road brakes. This lets you exert stopping power with minimum effort.
Key features:
• Hydroformed aluminium body
• 20.7 pounds (9.38 kg)
• Carbon fibre suspension fork
• 22 different speeds
• 700x25c wheels
• Dual pivot brakes
Although it's one of the cheaper road bikes on our list, it does exceptionally well. The bike is 27 pounds (12.2 kg) as it's made from 6061 series aluminum. Its frame is double-butted which makes it comfortable on long rides.
Its complete Shimano groupset allows for 21 different speeds. Its tires are 700x25c which as we've seen, means the bike glides easily.
Its 700c wheels are doubled walled as well. This allows for extra support, helping you ride confidently.
For such a cheap road bike, don't expect dual caliper or mechanical disc brakes. Instead, you get a single caliper alloy brake. For its price, its stopping power is decent.
It comes with a 7 speed rear shifter and 3-speed front shifter. This lets you ride the bike on a number of terrains, including hills.
The R2 comes with thumb shifters. Although you may not be a fan of this, thumb shifters are arguably the most durable shifter type and let you change the most gears with ease.
Of course, its design is worth talking about. It's eye-catching as it's a mix of jet black and neon green.
Key features:
• 21-speed drivetrain
• Double-walled wheels
• A050 thumb shifters
• 6061 aluminum frame
• Double-butted frame
• Eye-catching design
The Vilano comes with 700x25c wheels. We've seen this with so many bikes on our list so, it's nothing to write home about.
Speaking of its wheels, they're double-walled so you know they can take better beatings than the regular kind.
The Vilano Shadow has 14 different speeds, which is not as good. If you're a remedial rider this is fine, but not if you're an expert. And 14 different speeds is the lowest from all of the bikes on our list.
Unsurprisingly, a 6061 series aluminum body is present. The aluminum has an aero frame, making it streamlined which is a very nice touch.
The frame is dual-butted too, so comfort isn't an issue.
Like many of the bikes discussed, it comes with a complete Shimano groupset.
What's more:
The Shadow has dual pivot alloy brakes. This gives you ample stopping power with the flick of a switch.
What's cool is that Shimano Integrated brake levers are present. If you like to ride fast, this makes the Shadow perfect for you as STI levers/shifters are found in the best racing bicycles.
Key features:
• STI levers
• Dual-butted aluminium frame
• Aero frame design
• 14 different speeds
• Double-walled 700x25c wheels
The Throne comes with freewheeling due to its flip flop hub. Not only can you freewheel, but you can also ride it in many other ways. If you want to shred, dirt or ride break less, you've found the bike for you.
The Throne Goon comes with a 29 inch (73.6 cm) fixed gear that makes it perfect for shredding.
Its wheels are huge. They're thick and perfect for off-roading. After all, they're 29-inch double-walled tires.
The bicycle is a collaborative piece. Its design is aesthetic and street punk. This is due to THRONE's collaboration with the famed cyclist, Bloc Boi Fame.
In terms of its frame, yes, it's aluminum once again.
Key features:
• Fat tires
• Flip flop hub
• Collaborative piece with bloc boi fame
• Can ride breakless, dirt or freewheel
• Aluminium alloy frame
Things You Should Know
Our list is done, but we can't let you go just yet. The section below will educate you on everything you need to know about road bikes, helping you make the best purchase.
WHAT MAKES A GOOD ROAD BIKE?
First of all, what differentiates road bikes from other bikes? You could just buy a hybrid or off-roader and be done with it. Well, not really as road bikes are extremely lightweight and streamlined to help you race.
This why their frames are compact and made from aluminum or carbon fiber. So it's vital that you buy a road bike that is specific to your height.
As road bikes have to be agile, their tires are skinny. Usually, they're 0.98 inches (2.5 cm) in width. Of course, there are exceptions as we ran into a few on our list.
You'll usually see dual-pivot brakes in road bikes. This is as they're lightweight and compact. That being said, they don't provide as much of stopping power as their mechanical disc counterparts. This is why more and more road bikes have started using disc brakes.
Comfort is very important when it comes to road bikes which is why they're double-butted. Their saddles tend to have a lot of padding, increasing comfort levels as well.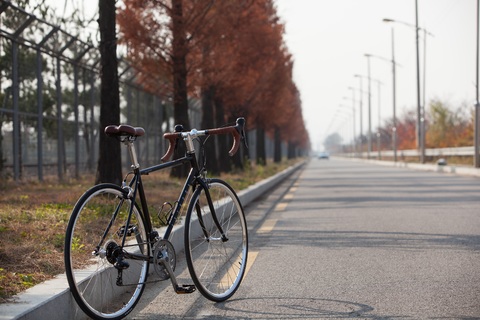 WHAT SHOULD YOU DO BEFORE BUYING A ROAD BIKE?
Try It Out
It's important that you try the bike out before you buy it. Obviously, you won't be able to do this if you're buying it online, so research as heavily on the model as possible.
When trying the bike out, you should test it out for at least half an hour. Road bikes are used for racing which means you'll be on them for a long time. If you were to test the road bike for a couple of minutes, you wouldn't really feel it out. By trying it out for half an hour or longer, you'd know if it's fit enough to race on.
Who's Going To Assemble It For You?
Whether you're buying a road bike or not, you're going to need someone to assemble the bike for you. Frankly, it's a hassle and is quite tedious to do so you need the aid of a local bike shop if you're not keen on wasting hours doing it.
Get It Fitted
As road bikes come with a compact frame, you need to get one that is right for you. Once you figure what size is suitable, you can look for road bicycles that match this online.
Are Your Hands Too Small?
You may be the perfect size for the bike, but your hands might not be. You need to be able to reach the gears and brake levers with ease.
Will You Ride Hills?
If you're using the bike to ride over hills, it needs to have a triple crankset. A double one just won't cut it.
ARE ROAD BIKES ONLY FOR RACING? ARE ROAD BIKES ONLY FOR RACING?
Your road bike can be for everyday use and not just for racing. Its build makes everyday use easier, in fact.
It's lightweight so you can take it wherever you want. This makes it agile which allows you to get from location A to B with ease. If you're a student and running late, this makes it the best way to get to class.
The fact that it is has thinner tires prevents friction from making your rides uncomfortable. So your rides will be smoother.
Road bikes usually come with drop handlebars. This makes it comfortable to ride as you have a range of places to rest your hands.
The bikes are known to have powerful gears. This lets you move a greater distance with just one revolution.
Conclusion
The assortment of road bikes under $1000 is numerous. We had a hard time finding the best one for you as there are so many. However, it's clear why the 6KU Fixed Gear Single Speed Urban Fixie Road Bike is on our number 1 spot as it's easy to ride, has a great price point, is comfortable and is sturdy.