Cycling is a fun and highly effective way to lose weight. However, buying the best bicycle for exercise at times can be a challenge. There are various bike models out there, and not all are suited for specific fitness purposes. Below we have reviewed a list of bike models highly suited for workout routines. Scroll below to inform yourself before you go shopping.
Overview of Products Reviewed
Frame
4' 10" (1.47 m) – 5' 8" (1.73 m)
4' 10" (1.47 m) – 6' 6" (1.98 m)
4' 10" (1.47 m) – 6' 6" (1.98 m)
5' 6" (1.68 m) – 6' (1.83 m)
Colors
Black, White, Burnt Orange
Our Reviews for Best Bike for Exercise Riding
Best Bike for Outdoor Exercise
We picked the Imola as our best overall bike for working out for several reasons:
This bike offers a solid build and excellent performance. It is designed for returning cyclists and fitness enthusiasts. 
You can also enjoy high-end benefits without spending over $1,000. The Imola isn't a budget bike. Nevertheless, it outperforms the mid-tier price tag. 
Here's what we liked about the Imola:
A 24-speed gearset and Shimano Claris R2000 shifters. These specs essentially guarantee speed. 
The Imola performs well when cruising and speeding. It's great for cardio workouts with different intensity intervals. 
The bike is precise and smooth to navigate thanks to the top-notch specs. The model is durable and you can comfortably put 60 plus miles on it. 
There are some downsides, however. Mainly:
The seat. The saddle is not particularly comfortable. You can feel it cutting in on long journeys. While it's not a deal-breaker, you might have to replace the seat to fully enjoy this bike. 
Also, the wheels are not as durable as the rest of the bike. So you might have to replace them sooner rather than later. 
Overall, the Imola is great for getting into serious road biking, as either a cyclist or a fitness enthusiast.
Pros:
• High-end specs
• Durable
• Designed for performance
• Suitable for intensive workouts
Cons:
• Seat and wheels may need replacing
• Not cheap
Best Bike for Newbies
Are you just starting a cycling-based workout routine? Then the 6KU Fixie Urban bike might be your best option. Here's why:
It's a fairly straightforward commuter bike designed for casual cruising. It's perfect for lightweight cardio on the tarmac. 
Additionally:
This bike model is also highly affordable. You can jump-start your workout plan without draining your bank account. It's cheap enough to allow you to upgrade to a multi-speed model later when you are comfortable. 
This bike is easy to ride either as a fixed gear or as a freewheeler. Essentially, it has everything one needs to speed down a street for a quick workout. 
This frame is alloy and is quite lightweight. The bike is easy to carry around as you require. The lightweight frame also allows neat racing. 
There is one downside though:
This 6KU model does not come with bullhorn handlebars. Bullhorns allow you to lean in for aggressive riding, unlike the rectangular road bike handlebars. 
You can replace the factory handlebars with bullhorns. However, this model requires a unique size so the standard fare will not do. You might have to contact the manufacturer for specific sizes if you plan to add bullhorn handlebars to this bike. 
The bike comes with lubricated bolts and chains. It is fairly easy to assemble too. The frame is available in multiple sizes to suit different heights. 
Pros:
• Lightweight frame
• Affordable
• Designed for urban environments
• Great for racing for cardio
Cons:
• No bullhorn handles
• Might need upgrading later
Best Bike for Weight Training Workouts
When it comes to a good bike for exercise, most buyers think of road bikes. While road bikes are great for cardio, mountain bikes are the best for intensive routines that work your muscles. 
The Diamondback Overdrive is a beast of a hardtail at this price range. It's got top-tier specs like these:
An Acera 8 speed rear derailleur usually found in high-end bikes and highly reliable Shimano M315 hydraulic mechanical disc brakes.
The 29-inch wheels offer excellent traction too. The Overdrive smoothly rolls over off-road obstacles and climbs uphill like a competitive-grade bike. 
The bike has an alloy-carbon frame. It's durable and long-lasting. While it's heavier than the alloy frames, for mountain bikes this model is quite lightweight. 
Another excellent feature is the SRAM NX single-ring drivetrain. You can expect trouble-free shifting. 
It does have this big problem though:
The seat is not at all comfortable. Mountain bikes don't come with cruiser-style comfort seats, of course. But even by hardtail standards, the seat is not at all comfortable. 
The tires are rather standard but they are not flat resistant. If you plan on riding this for prolonged periods, you might want to have them replaced too.
Another minor perk:
The bike comes almost fully assembled. All you need to set up is the front tire and pedals. 
Despite some small issues, the Overdrive is a great choice for a mountain bike to work your muscles. 
Pros:
• High-end specs
• Comes almost assembled
• Crisp shifting
• Durable build
Cons:
• The seat is not at all comfortable
• Tires aren't flat-resistant
Best Road Bike for Exercise
Sometimes all you need to do to workout is to go out on the street and start cycling. For light cardio and leisurely rides, the Schwinn Volare 1400 is one of the best choices in our opinion. 
This is very much a road bike, in that it's good for cycling in urban environments and flat, smooth surfaces. Don't expect to use this off-road for intensive workouts. 
The specs on offer are simple but highly useful:
You get 14 speeds and a Shimano rear derailleur. Shifting is precise thanks to the brake lever combo. The Shimano breaks are easy to use even for beginners. 
The 14 speeds are great for everyday riders. It gives enough high speeds for cardio workouts and low speeds for leisurely commuting. 
The frame and most parts are made from alloy. The build is solid and very rigid. Both the frame and the fork are rigid. 
There's also this important benefit:
This bike model has no weight limit, according to the manufacturer. The bike can withstand weights up to 250 lbs (about 113 kg), but also possibly more. If you are on a weight loss regimen, this would be something very important to consider. 
Additionally:
The handlebar is tilted forward so the rider has to lean in. This means you can work your hamstrings and calves riding this bike. 
One issue to take note of:
This bike stands at 20.87" (53 cm), which might be too tall for some riders. 
Also, some models might be shipped with loose brakes. Therefore, make sure you fine-tune the brakes before you hit the road on this bike. 
Pros:
• Suitable for heavy riders
• Highly affordable
• Work out lower legs
• Rigid build
• 14 speeds
Cons:
• Breaks need adjusting
• Might be too high for some
Best Exercise Bike for Heavy Riders
Weightier riders find it particularly challenging to find exercise bikes that can support their frame. The standard cruiser or hardtail carries up to about 200 lbs (90.72 Kg). Some may carry up to 250 lbs (113.4 Kg). But if you weigh over that, your options would be very limited. 
This is where the Mongoose Dolomite comes into play. This beast of a fat tire bike can support riders weighing up to 500 lbs (about 227 kg). 
This is no slim bike. The model itself is very heavy. And it's designed for the following:
As a fat tire bike, the Dolomite performs best on rough, inclined off-road terrain. The fat tires make it easier to roll over pebbles and similar obstacles as upcycle uphill. 
Regardless, you can ride this bike on most surfaces, including sidewalk or tarmac. However, you might have to inflate tires to the maximum to make pedaling easier. 
If you want to get into cycling cardio, the Dolomite might be the option for you, especially if you are very heavy. 
The Dolomite has benefits for non-heavy riders as well, such as this:
The fat tires cushion shocks well on off-road trails. So if you have joint problems or just want a smooth off-road ride, this would be a good option. 
Be aware of this:
Overall, the Dolomite is well-built. However, do note that some parts are plastic and are thus prone to breaking. 
Because of the heaviness and the massive tires, this bike is not designed for speeding. It might not be what you need if you are looking for an off-road full cardio workout. 
Pros:
• Supports heavy riders up to 500 lbs (or 227 kg)
• Fat tires cushion shocks well
• Reliably built model
• Great for off-road riding
Cons:
• Some parts are plastic
Answers to Common Questions about Bikes for Fitness
WHICH TYPES OF BIKES ARE BEST FOR EXERCISE?
Bikes come in different models, such as commuters, e-bikes, BMX, or mountain bikes. So it's normal to be confused about what to pick for your workout plan. 
Bike models differ based on the type of terrain they are designed for. Commuter bikes, for example, are designed to ride smoothly on the sidewalk or tarmac. Mountain bikes have special frames and tires to tackle rough, uphill terrain. 
So the best type of bike for your exercise plan would first depend on the terrain you hope to tackle. Then, the type of cycling you intend to do also plays a role. 
For example, if you want to do intense cardio exercises speeding down a street, then a road bike would do. If you just want to get used to cycling cardio, a commuter, or even a cruiser might do. 
Generally speaking, these are the best types of bikes for exercise:
Road Bikes

Road bikes have three important qualities that make them great for fitness uses:
• Lightweight frames
• Thin tires
• Many gears
The lightweight frames combine with slim tires allow you to speed like a bullet down a road. So these bikes are just about perfect for cardio. 
Road bikes also come with multiple gears, as many as 24 speeds. This gives you greater control over speed. Meaning, road bikes are excellent for interval training. 
Mountain Bikes

Mountain bikes allow you to ride on off-road hilly terrain. These bikes are great for tackling inclined obstacles. Unlike road bikes, mountain bikes don't solely offer a cardio workout. These bikes would push you to move your body and work your legs more. 
If you want some weight training and challenging rides, mountain bikes are the way to go. These bikes are generally heavier and don't come with as many speeds as a road bike. Rather than speed, these bikes are focused on endurance. 
To be sure, mountain bikes may not be suited for someone just getting into cycling. But if you already cycle and want to intensify your workout, then a mountain bike would work great. 
Fat Tire Bikes

Fat tire bikes are a subtype of mountain bikes designed for extreme off-road terrain. These bikes have notably wide ("fat") tires. The idea is to allow the rider to roll over obstacles with the least amount of shock. 
Fat tire bikes offer more control and support heavy riders. So if you are on a weight loss regimen, fat tire bikes are a very good option to consider. 
Additionally, the fat tires dampen shocks from off-road terrain well. So if you suffer from joint pain, a fat tire bike may feel more comfortable. 
The above are simply the most commonly used types of bikes for fitness. You can pick any bike type you like. What's important is that the bike is comfortable and suits your needs.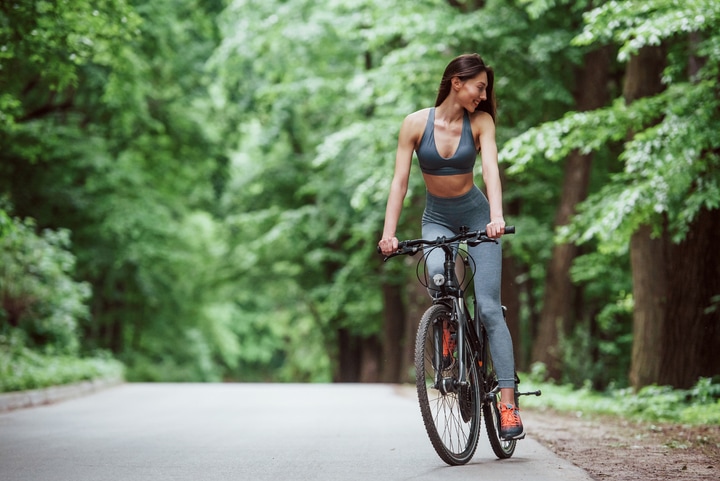 ARE CRUISER BIKES GOOD FOR EXERCISE?
Cruisers are designed for short commutes, like running errands or short trips by the beach. If you are looking for an intensive workout where you speed downhill, then cruiser bikes may not suit your fitness goals. Still, even cruisers can be useful fitness bikes depending on your needs. 
If you are aiming for a light cardio session, then a cruiser just might fit your needs. These bikes could be for you if you are just getting into cycling. Cruisers also let you sit upright. So if you have back problems or joint aches, you may benefit from using a cruiser. 
But do keep in mind that cruisers come with limitations. These bikes are not particularly good for long-distance cycling. They are not designed for off-road tracks. You can use a cruiser to kick start your cycling exercise regimen, and later upgrade to a more fitness-oriented bike like am mountain bike. 
Simply put, it depends on your needs and your riding capability. Don't rule out cruisers without evaluating your needs.
HOW MUCH MONEY SHOULD I SPEND ON AN EXERCISE BIKE?
That would depend on your budget. Generally speaking, you don't necessarily have to spend over $1,000 on an exercise bike. A good number of budget options exist under $500. Some mid-tier bikes between $500 and $1,000 are almost as good as the very expensive ones. 
Just to be on the safe side, you might want to purchase a budget range or mid-tier model as your first fitness bike. This is the most financially sensible option if you are just getting into cycling. Once you are comfortable and know what you want, then you can splurge thousands of dollars on a good model. 
Remember, the amount of money you spend on the bike isn't correlated to how well you can exercise. What matters is that you pick a bike you love to ride. Pick the right size for you and choose a durable build to get the most out of your purchase.
SHOULD I CARE ABOUT THE SIZE OF THE BIKE?
Yes, you should. The size of the bike isn't related to performance, but rider comfort. 
Before you purchase a bike, you should always look at the wheel size. This indicates how tall the bike is. The bike should only be tall enough so that when you are seated, your legs can still touch the ground. Bikes that are too tall or short for you will negatively affect cycling and make it unsafe. 
Bike manufacturers usually specify which sizes are suited for the rider's height. Make sure you pick the model that matches your height exactly.
ARE THERE EXERCISE BIKES FOR OBESE RIDERS?
Absolutely. Bike manufacturers typically specify the maximum carry weight for their models. Always check this number to make sure your weight is supportable. 
Most road and mountain bikes can support weights up to 250 lbs (113.4 Kg). If your weight is over that, don't panic. Fat tire bikes can usually support extra-large riders. Weighty mountain bikes can also support heavier riders. Check with the manufacturer for the carry limit specifications, and you will be good to go.
Conclusion
Picking an exercise bike shouldn't be a chore. Pick a model that suits the terrain you intend to ride it on. Also, pick a bike that is comfortable for you to ride. 
The above reviews should give you a general sense of what exercise bikes offer. The reviews may also help you understand how different types of bike suit cardio or weight training routines. 
Do not forget to choose a bike model that matches your experience. As some of the above reviews demonstrate, if you are a beginner, go with a cruiser or a road bike. If you already have plenty of experience cycling, up your game with a mountain bike. 
What it comes down to is picking a bike that you think is fun to ride. Get a bike that motivates you to get out and start pedaling.