The Cannondale Topstone 105 hydraulic disc brake bike is getting lots of interest as the new gravel bike on the block, is the hype justified? We find out in this Cannondale Topstone 105 review.
Gravel rides are tremendous fun and something I love doing. The variety of speed and the difference in track conditions, give them an edge over road rides so reviewing this gravel bike was a joy!
For me, the Topstone 105 delivered everything it promised and more. 105 is such a good drivetrain, I know Ultegra and Dura-Ace are the top dogs but honestly, when I switch between Ultegra and 105, it's a challenge to tell the difference.
How does it size up against other gravel bike brands?
Full Bike Specs
| | |
| --- | --- |
| Frame | SmartForm C2 Alloy, 142x12 thru-axles, tapered headtube, flat mount disc, StraightShot internal cable routing, multiple gear/bottle mounts |
| Fork | Full Carbon, 1-1/8" to 1-1/4" steerer, 55mm OutFront offset, flat mount disc, internal routing, 12x100 thru-axle |
| Stem | C 3, 6061 aluminum, 31.8, 7° |
| Handlebars | C 3, butted 6061 aluminum, 16 deg flare drop |
| Brakes | 105 hydro disc, 160mm RT56 rotor |
| Brake Levers | Shimano 105 hydro disc |
| Front Derailleur | Shimano 105 |
| Rear Derailleur | Shimano 105 GS |
| Cassette | 105, 11-34t, 11-speed |
| Crankset | FSA Omega ME aluminum, 46/30T |
| Chain | KMC X11, 11-speed |
| Wheels | WTB ST i23 TCS, 28h, tubeless-ready |
| Tires | WTB Riddler TCS Light, 700x37c, tubeless-ready |
| Saddle | Fabric Scoop Sport, 143mm width |
| Seatpost | C 3, 6061 aluminum, 27.2 x 350mm |
Cannondale Topstone 105 Overview
If you're after a gravel bike that will happily do whatever you ask of it, the Cannondale Topstone could be ideal.
Steep hills, technical trails, smooth roads, whatever, this thing is going to eat up the miles...with ease.
The Topstone 105 is incredibly versatile and doesn't break the bank, which is why it appeals to so many people.
It could be the perfect bike for almost any adventurer. Honestly, it's hard to find anything not to like about this bike - it's a great option.
This is largely down to the fantastic lineup of components and decent, solid construction.
The groupset on the Topstone 105 is predictably Shimano 105, including the brakes and shifters. The tires are wider than what you find on road bikes so it's capable when you want to take to the gravel.
Cannondale has made solid design choices with the frame and geometry to ensure that the rider gets a comfortable, positive riding experience. In particular, the saddle and the handlebars are of high quality and that gives you the feeling that you're on a more expensive bike than you are.
Shock absorption is good and there are plenty of options for mounting racks, fenders, and other accessories.
Overall, the Topstone 105 gives you a lot of things from a road bike, and a mountain bike and pulls them together so if you want that "do everything adventure bike", this is a good option.
What's Good About The Cannondale Topstone 105
It's tough. The frame is durable and fairly impact-resistant. You feel like it will handle what you throw at it and that's important for a gravel bike.
The light design gives you a joyous handling experience - even in the most technical of situations.
The tires give you plenty of traction and grip to give you that 'fixed in place at all times' feeling.
Braking is on point. It's responsible and reliable.
Shifting is quick and responsive.
Plenty of mounts available and that feels like it's well thought out with the end-user in mind.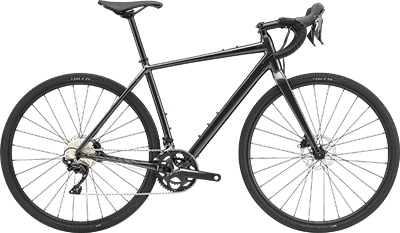 What's Not So Good About The Cannondale Topstone 105
Design is understated for what it is. Some people will like this, I'm sure.
The geometry of the frame places the rider in an upright position and for some people, this may not be what they want.
Key Features Of The Cannondale Topstone
As you will have already realized, there are plenty of good things (and some bad things!) to say about the components of this gravel bike but let's take a more in-depth look at the key features.
Well Balanced
The Topstone is sturdy, I'd go as far as to say it's one of the sturdiest gravel bikes out there.
Somehow, Cannondale has managed to balance that brilliantly with softness.
What do I mean by that?
The stiffness keeps it safe from big impacts and prevents any damage occurring to the frame or the components, yet it's still sufficiently soft that you stay in control of the bicycle and any shocks are absorbed.
You get extra stability from the 55mm carbon fork - this is particularly apparent at higher speeds. Although you don't get a carbon frame, the aluminum frame won't give you any problems with durability - this thing is built to last.
Superb Handling
You ought to find the Topstone 105 easy to handle, on any terrain.
The alloy frame is lightweight - within the price range, it's one of the lightest available.
This lightweight frame allows you to handle the bike comfortably and it really adds to the overall experience.
Whilst some riders may not like the upright riding position the Topstone offers, it does deliver on comfort and allows you to see ahead of you, without you losing control so there are lots of positives for it.
What all this translates to is an agile bike that delivers time and time again on any gravel surfaces, without any concerns, only a smile on your face.
Brakes And Drivetrain
The body and tires are good but the components are what helps to make it the bike it is.
You get a full 105 groupset, brakes, and shifters, this improves the performance significantly from other lower groupsets.
I went from Claris to 105 and the difference was huge.
105 to Ultegra? Not so much.
Available to you is a 22-speed drivetrain, you won't have any delay in shifting as the shifters respond quickly when you ask them.
They are there for you in stopping power too with their hydraulic disc brakes.
The Adventurer
Competitors of the Topstone can't really compete with it when it comes to how practical this bicycle is.
There are a huge number of mounts available to you - it's no wonder it will score highly in these categories in reviews. If you want to pop some fenders on, there are bolts already in place for that.
If you need multiple bottles, then you can add holders easily too. In fact, there are so many different mounts, you can carry enough water bottles for days!
Not forgetting the top-tube storage available if you want to add bags etc.
If you want to increase the off-road capability of this bike, there is a downtube mount where you can have a big frame bag if you'd like. This makes it ideal for long trips as you'll have plenty of options for storage and you can even add a dropper post!
Wheels, Rims, And Tires
I love this wheelset, it makes rides so smooth - it feels like you're gliding at times!
The wtb riddler tires on the Topstone 105 are tubeless ready so you can make the decision whether or not to go tubeless.
Here's a video from GCN Tech to explain tubeless pros/cons!
Whether tubeless is for you or not, these wheels and tires will prove to be comfortable, they will give you the grip you're after when you're out on the road or trails.
They make it simple for you to perform the tight turns, sharp braking you might want/need to do.
Paint Job
The look of this bicycle is straightforward, some would say dull, others may saying lacking fun.
It's not ugly, absolutely not.
However, it doesn't shout out that this bike will take all the riding you can give it. Its versatility doesn't shine through.
For some people, that's going to add value, those who like to be discreet but for others, it might be disappointing.
Perhaps I'm being unfair, the Topstone is a decent-looking product and there's a surprise in it.
Upright Position
Gravels bikes by nature have a more upright design than road bikes but for some people, the Topstone might be a little too upright.
Though there are steps you can take for you to be able to find the sweet spot on this bike, changing the seat post can make you less upright.
However, I would say give it a good ride, especially if you're not used to riding gravel bikes and spend a decent amount of time on road bikes. It may take some getting used to but the outfront steering geometry can really work.
Not sure about the geometry for this bike? Cannondale breaks it down for you, just here.
The Competition
If you're not quite settled on the Topstone and want to explore other options, these bikes provide similar off-road (and on!) performance so they're worth considering!
Just like the Topstone, the Checkpoint comes with a 105 cassette so these bikes give you the same gearing which is a good thing and keeps them fairly level.
Something that I really like about the Trek is the frame. It too is alloy but there's something about a Trek frame that stands out. The surfaces are clean and the cables are hidden. There's no doubt that these bikes are lookers.
As I touched up, the gearing is 105, and that gives you a 21 gear system. Should you think that's too many, Trek has fitted adjustable Stranglehold dropouts so you are able to change the component to a single speed.
Riding on the Checkpoint models is quite firm but Trek does a good job soaking up most of the bumps on rough terrain and roads.
It would be easier if these models came with bigger tires than 35mm and that is something I'd look at changing over time if long-range rides and fast descents were my thing.
However, when you weigh everything up, the Trek Checkpoint is a model that loves gravel. It performs well and is a joy to use.
Specialized bikes always score well in reviews and for a good reason, they're brilliant bikes and their gravel range is no different.
Matching the Topstone you get an alloy frame. The thing about this version or model is that the geometry is the same as the top models. This means that you're getting a well research frame for prices much less than those found on the higher range!
Now the Elite comes with a GRX gear set up so slightly different from what we've looked at. SRAM works differently but it is often found on mountain bikes and handles gravel surfaces/descents brilliantly.
Tire clearance is a whooping 47mm so if you want a chunky wheel to feature, there's nothing stopping you!
Giving you the confidence, regardless of climbs, traction, or activity, the Specialized Diverge Elite comes with a disc braking system so you will be able to take on every gravel road at an attractive price point.
Gear range is good and should see you up all the climbs you wish to take on without issues - abilities allowing!
Overall, the Diverge offers something different (including a carbon version), with gears to suit what you throw at it, a tire clearance that allows for wheel size upgrades, and much more. It's a very worthy competitor.
Final Verdict
This bike delivers on every promise it makes.
Some cyclists may find the position a bit too upright for long days in the saddle but nothing a change of seat post can't fix.
The ability to add a dropper post will appeal to some, giving that extra touch of versatility and taking it away from its road bike routes.
Overall, it's an excellent bike with plenty of features and few disadvantages.
Ordered yours online and need help building it? Watch this video: