(Product prices are subject to changes and could be higher than the stated price range.)
Thinking about trying cyclocross racing or getting back in the game? Don't throw a lot of money at just any bike. If you are on a budget, it's possible to find a cheap cyclocross bike that won't drain your wallet. Scroll below for our reviews of the best cyclocross bike under 1000 for solid recommendations you can consider.
Overview of Best Value Cyclocross Bikes
Weight
30 pounds roughly (13.61 Kg)
Frame
Alloy, 16 inches (40.64 cm)
Drivetrain
Microshift 21-speed twist shifters
Alloy, 21 inches (53.34 cm)
Top Product Reviews
Best Value Cyclocross Bike
Schwinn GTX pleasantly surprised us by hitting that right spot between value and price. This is not a premium CX model. However, it still offers excellent perks for the money you pay. 
This bike model is designed to be versatile. It's usable for several different types of cycling, including cyclocross. Essentially, the bike is a mishmash between a road bike and a mountain bike. This is exactly what you need to look for when buying entry-level cyclocross bikes.
The bike has some functionality of a mountain bike. However, it's much lighter than a mountain bike. The GTX weighs just 32 pounds (14.52 Kg).
Also:
You can enjoy precise gear shifting thanks to the 21-speed micro twist shifters. The drivetrain is Shimano, as you can expect for this price range. 
The bike has a slim frame, which is perfect for carrying over your shoulder during races. It's not as slim as some premium cyclocross bikes, but the average racer shouldn't have trouble with this model. 
What's more:
The frame is 16 inches(40.64 cm) and the model comes with 770C alloy wheels. The frame can accommodate most riders. 
If you are between 5' 6" (1.71 m) and 5' 9" (1.8 m), this bike should work well for you. It's not ideal, but manageable for riders who are 5' 5" (1.68 m). If you are taller than 6" (1.83 m), this standard frame will be too short for you. 
Another issue to keep in mind:
The seat is not adjustable. You can adjust it up and down somewhat, but not forward to backward. So, some riders may need to replace the seat. 
Other than these issues, this bike works wonderfully as a cyclocross racer. Because of how versatile it is, you can occasionally take it on road races or for spins on hilly terrain as well. 
All in all, this Schwinn offers excellent value for your money. If you want a decent cyclocross racer without breaking the bank, this might be what you are looking for. 
Pros:
• Highly budget-friendly
• Lightweight
• Slim frame
• Versatile design
• Great shifters
Cons:
• Not suitable for short or tall riders
• Seat adjustability is limited
The Most Versatile Option
The Goplus road bike is designed for "rigorous" street racing, according to the manufacturer. The design of the bike offers a lot for cyclocross racers as well. 
Here's the bottom line:
This bike is made for speeding on pavement and gravel. It's made for racing, and also for tackling challenging situations. 
In other words, this is a good option for entry-level and casual cyclocross racers. 
Here's what we liked the best about this bike:
It's supremely lightweight. The bike overall weighs around 32 pounds (14.52 Kg). Most of the frame is made from aluminum, which keeps the weight down. The handlebars are steel. 
So the bike is easy enough to carry over your shoulder. And it's a great speeder. It sounds like a beginner cyclocross racer's dream. 
There's more:
The frame is supremely sturdy. It's a relatively good at absorbing shock, as cyclocross racing demands. 
The street racer tires should meet the demands of the average cyclocross venue. However, it might not handle mud and gravel very well. 
On the plus side:
Both the front and back wheels have quick-release latches. This bike is very easy to maintain and adjust as a result. 
What we didn't like:
The bike frame, while well built, is not properly coated. So you may experience rust issues unless you properly treat the frame out of the box. 
Overall, this is one of the more affordable cyclocross bikes that you can occasionally use to commute as well. 
Pros:
• Extremely lightweight
• Quick-release tires
• Highly adjustable
• Designed for speed
• Sturdy frame
Cons:
• Prone to rusting
• May not perform well in certain outdoor environments
Best for Entry Level
If you are looking for a cyclocross bike right out of the box, this might be what you are looking for. This model is affordable and offers no frills. If you are a beginner, it has everything you need to hit the cyclocross track with. 
Let's start with the important specs:
The bike has a highly lightweight alloy frame. This is one of the most important aspects beginners need to look for when buying cyclocross bikes. 
A lightweight frame, compared to mountain or road bikes, is important for carrying the bike over obstacles on cyclocross tracks. This bike is light enough to help you learn this process. 
Plus:
It comes with alloy wheels and a 24-speed Shimano drivetrain. Essentially, you have a wide gearing option and good traction. 
The frame with a bi-oval downtube allows maintaining a comfortable riding position. The semi-compact geometry of the frame is also great for speeding. 
This bike is easy to assemble right out of the box as well. Some parts may require tightening, but otherwise, assembly isn't stressful. 
On a fair note:
This bike may not offer much for experienced cyclocross racers. It's best for those who want to get into cyclocross racing. 
The bike's versatile enough for other activities as well. You can still use it to comfortably commute when you are not racing. 
Pros:
• Great for beginners
• Easy assembly
• Lightweight
• Aero-friendly geometry
• Excellent value
Cons:
• No premium features
• Not for pro racers
Best for Build Quality
Tommaso Monza may not be the hottest cyclocross bike out there. However, this is the closest that comes to offering premium features for a budget range.
There's one thing about this bike we really liked:
The frame. 
Cyclocross bike frames require two things. First, they have to be lightweight. Secondly, they have to be sturdy enough to absorb the shock of obstacle-ridden courses. 
The Monza meets these two expectations wonderfully. 
Weighing only about 21.6 lbs (9.8 Kg), the Monza is one of the lightest budget-friendly cyclocross models we've seen so far. But it doesn't stop there. 
The Monza is fitted with a 6061 aluminum frame with a carbon fork. This is a top-notch build designed for absorbing shock. You can rely on this bike to ride over light gravel, potholes, and off-road trails in general.
And then there's this major perk:
The frame is drilled. You can fit a bike rack or a basket if needed. That makes this the perfect off-road adventure bike for cyclocross enthusiasts. 
Some downsides exist:
This bike is not designed to handle anything bigger than gravel on the streets. If you are riding on snowy or particularly muddy trails, this bike might not suit your needs. 
Also:
The manufacturer recommends having the bike professionally assembled. That can be a bummer if you are not handy with tools at home. 
Regardless, this bike is surprisingly comfortable and quite versatile for both road and cyclocross racing. 
Pros:
• Excellent lightweight frame
• Designed for shock absorption
• Near premium build quality
• Drilled frame
Cons:
• Require professional assembly
• Can't handle tough obstacles on the road
Best for Rocky Tracks
Cyclocross racers have to tackle all kinds of outdoor terrain, mainly consisting of mud and gravel. The Mongoose Elroy is the closest that comes to meeting serious racers' expectations at this price level. 
Just to be clear, this doesn't hit all the points a cyclocross bike needs. But if you want a well-rounded off-roader you can occasionally take on a cyclocross spin, this model will meet your needs. 
The part that offers the best value:
The unique geometry of this bike is great for adventure touring and racing. The model comes with a sleek frame and a fork, which are both alloys. 
The overall build quality is mediocre, in our opinion. This model combines several long-lasting quality parts with generic Chinese components. You may need to replace some parts on time. 
One big issue we had with this model:
It comes with Microshift gears rather than Shimano. As most riders are used to Shimano drivetrains, the new version may need some getting used to. 
On to cyclocross features:
This bike is great at shock absorption. It's designed like an off-road gravel bike, so it won't let you down in this area. 
The frame is fairly lightweight at 30 lbs (13.61 Kg). However, this model comes in three versions to accommodate riders of different sizes. So larger versions may weight more. 
The model comes with a bike rack attached. You can take these off anytime you want for cyclocross racing. 
All in all, we weren't blown away by the features Elroy offers. However, it's still worth giving some consideration as a budget, casual-level cyclocross bike. 
Pros:
• Good shock absorption
• Fairly lightweight
• Designed for off-road obstacles
• Multiple versions for riders of different heights 
Cons:
• Build quality is mediocre 
• No Shimano gears
Quick Guide to Buying a Cyclocross Bike
Buying something like a cyclocross bike on a budget can be challenging. So we put together this brief guide to help you understand the products you are looking at online, and then make the best decision:
DECIDING HOW MUCH MONEY TO SPEND
Cyclocross is not the same as regular road biking. So don't expect to spend the same amount of money as a road bike. 
Cyclocross bikes are a specialized field within the bike market. So you would generally need to spend a lot of money for a decent product.
However, there's this:
You may not need to spend a lot of money right from the start for a cyclocross bike you like. There are still great products in the under $1,000 price range you can consider. 
If you are a highly experienced cyclocross racer, then it's fairly safe to spend close to $2,000. If not, it's best to first try a budget product instead. 
Remember, budget doesn't necessarily equal a bad product. What you need to look at are the longevity and the specification of the product.
CHOOSING FEATURES TO PRIORITIZE
When you are on a budget, you can't have everything. Therefore, you need to ensure you are spending money on the right features. 
These are the features you need to focus on the most when buying:
• Lightweight frame
• Lower than average gearing
• Off-road tires
• Sturdiness
A lightweight frame is necessary for hauling your bike over some obstacles on the course. The lighter the frame, the better. 
You don't need much gearing for a cyclocross bike. The reason is that you would mostly be navigating ruts and corners. However, you can aim for higher gear if you plan on road cycling on the bike as well. 
Off-road tires that can handle gravel and sand would be a major plus. Some models may not come with them initially, so you might want to buy this separately. 
A sturdy frame that can absorb shock well is also a must. Cyclocross racing is all about the shock.
Keep in mind, not everything you need will be available at this price range. So prioritize and purchase.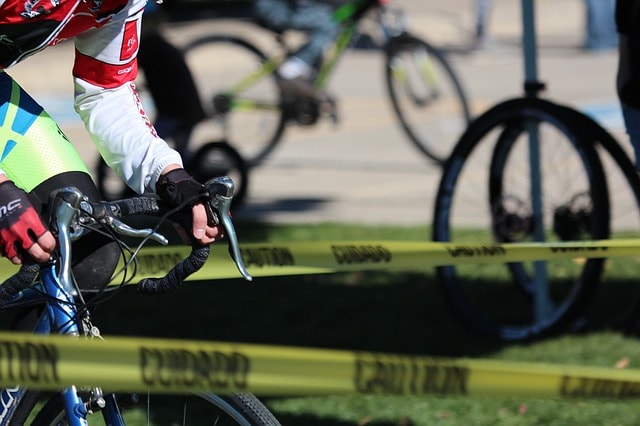 SIZE MATTERS
You must buy a bike model that fits your size. You won't be able to comfortably race without the right size. It might even be dangerous. 
So, carefully read the frame specifications for each bike model. Choose the frame size recommended for your height and weight. 
Some bike models offer different sizes. This might be a better option for some riders. 
If you are taller or shorter than average, do some research before purchasing a product. Cyclocross frames tend to be designed for average heights for the most part. 
Remember, some frames are not adjustable at all. You might not be able to adjust the seat height or handlebar. So choose wisely.
PICKING THE RIGHT FRAME
After size, you might want to give some thought to the material the frames are made from. Bike frames are typically made from steel, carbon, and aluminum. 
Go for aluminum frames for your cyclocross needs. This material is lightweight as well as sturdy. Plus, the alloy frames are highly budget-friendly. Therefore, alloy is the best material for your cyclocross bike.
CONSIDERING ASSEMBLY
We all want a bike that's ready to cycle once out of the box. Unfortunately, most cyclocross bikes require some level of assembly at home. 
The safe option is to budget to get your bike professionally assembled. It's the best option, especially if you are new to this. Some manufacturers even recommend it. 
Otherwise, get your tools ready. You may need to spend a day or two assembling the bike. This is the norm so expect it in advance.
GREAT BRAKES ARE A MUST
Any bike needs good brakes. Cyclocross bikes need great brakes. 
Never skimp out on this spec, ever. Don't buy a budget bike with bad brakes, even if the rest of the product is great. 
As you would most likely be racing on your cyclocross bike, it's very important to prioritize a good braking system. 
Should you, therefore, spend money on disc brakes or cantilever brakes?
In short, it doesn't matter which braking system you choose as long as it's reliable. Either system works well with cyclocross needs. 
But your personal preference might come into play. 
Prefer low maintenance brakes?
Then go for disc brakes. They are easy to take care of and won't take much of your time. 
Cantilever brakes are less expensive. So if you are on a strict budget, you might want to aim for those.
Conclusion
Buying a cyclocross bike on a budget is not impossible. It's doable so refer to our reviews and try to decide which you want to buy. 
Don't get your expectations too high, though. The products you see above have both great features while lacking in some areas. Go through the pros and cons to find the best balance for your needs.