I took a look at Schwinn's mountain bike on a budget and was pleasantly surprised, here's my Schwinn Protocol 1.0 review to find out more!
In the spirit of being fair, I also reviewed some alternatives to the Protocol 1.0 Being an avid cyclist, this was a pleasure to do and a great excuse to go riding on the trails again.
I'll be covering the key features of the Protocol 1.0 and take a look at whether it's a good purchase for you.
Tech Specs Of The Schwinn Protocol 1.0
Schwinn Protocol 1.0 Key Features
Schwinn bikes are not lacking in features so let's look at some of the key ones for the Protocol mountain bike.
Aluminum Dual Suspension Frame
I love the fact that you get a lightweight aluminum frame with this mountain bike.
Why?
It's durable but not as heavy as steel, so it's the best of both worlds in many ways.
The dual suspension system means that it absorbs rocks and bumps on the trails with ease, allowing you to enjoy mountain biking on all types of terrain.
24-Speed Shimano EZ-Fire Shifter
Schwinn uses Shimano for many of their products and it's nice to see Shimano feature in the Schwinn Protocol 1.0 for the trigger shifters and rear derailleurs.
The benefit of this is that you can be certain of smooth shifting.
Not to mention that you get a 24-speed gear system that will enable you to tackle tough climbs with confidence and perform well on descents. It also has enough gears to get you where you want to go with ease.
Double-Walled Alloy Rims
Naturally, when you buy a mountain bike, you want it to be durable. That goes for the wheels and rims as well.
Ideally, you want to balance durability with weight and that's exactly what Schwinn has done with the Protocol.
The rims are double-walled so that gives you the strength you need from your rims. Due to the material, it also means that they are relatively lightweight.
26-Inch Tires
The tires are 26-inches in size. For a mountain bike, that's a fairly standard size, although we are seeing 27.5 and 29 inches grow in popularity. 26-inches is just as good.
It gives you a great degree of control, more so than other wheel sizes. It also makes it easier to handle in terms of mounting/dismounting. This is purely down to the size of the mountain bike.
26-inch tires also mean that you'll be able to achieve quicker speeds going downhill so if that appeals to you, it's certainly a big plus for the Schwinn Protocol 1.0.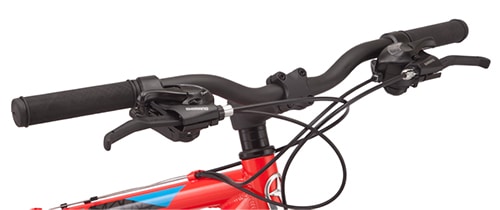 The Good Things About The Schwinn Protocol 1.0 Men's Dual Suspension Mountain Bike
Mechanical Disc Brake System
I'll be honest, if you're in the market for a mountain bike, you want it to have disc brakes.
Without them, you are unlikely to get the most out of your bike. This is because you won't be confident in its braking ability to reach its full riding potential.
Rim brakes aren't consistent like disc brakes.
Disk brakes won't be impacted by weather conditions as rim brake systems are.
While hydraulic disc brakes are superior to mechanical ones, this is only slightly. You still get fantastic performance on these brakes, more so than that with rim brakes.
Value For Money
The Schwinn Protocol 1.0 mountain bike is worth your while. It's a bike that has been designed by a well-known, well-respected brand.
There aren't many compromises you have to make when it comes to the Schwinn Protocol 1.0. It offers a heck of a lot of bike for the money.
Lightweight
There's no getting away from the fact that a lightweight bike is better, providing it doesn't impact the durability of the frame...and this one doesn't.
The fact that the Schwinn Protocol 1.0 weighs a cool 43lbs/16.5kg makes it light enough for you to control it bike easily without compromising on quality or durability.
Adjustability
A number of components on this bike are adjustable, meaning that you can get the right riding position, giving you that smooth ride.
Ease Of Assembly
If you order a bike online, expect to have some assembly to do. Depending on your skills and experience, this can be daunting. Some people may choose to take their new purchase to a bike shop to be assembled and that's fine. However, with the Schwinn Protocol 1.0, that expense may not be needed.
Many users have found that on average, it only takes 30 minutes to build.
This is down to the fact that Schwinn ships these mountain bikes pre-built, meaning that you don't have many components to fit. Happy days!
Smooth Gear Changes
I touched on it earlier but we should look at the gear and shifting in detail. It's a huge advantage of the Schwinn Protocol 1.0 men's dual-suspension mountain bike.
When you're riding and need to change gears, you want it to be seamless. You want to know that it will happen smoothly.
I've had bikes that I've asked to go into the big ring and it just hasn't happened. I've had to fight to get it there. It's not ideal and you know what? It ruins the ride because rather than fighting the bike, you end up choosing to ride in the wrong gear.
You shouldn't have to deal with the same problem!
Fitted with Shimano components, the Schwinn Protocol's shifting is smooth and effortless. There's no fighting; you ask to change gear, it changes. It's as simple as that and that shouldn't be underestimated...trust me!
The Not So Good Things About The Schwinn Protocol 1.0
So far, my review of this mountain bike has been glowing. Now let's balance it out a little and look at a few drawbacks.
Not The Most Comfortable Saddle
To some extent, this is going to be down to personal taste. You may find that the saddle on the Schwinn Procotol to be comfortable but that's not my experience.
The seat seems to be quite firm and can put unwanted pressure on your bottom, especially if you take into account the fact that this is a dual-suspension mountain bike and you're riding the terrains hard.
I don't think saddles are a reason not to buy a bike. It's a part that can be swapped out quickly and not at a huge cost. I also think that, given that seats are such a personal thing, it's not something to hold against a bike.
Bottle Holder Location
Firstly, you don't get a bottle holder so you're going to have to purchase one separately. That's a bit unusual but fair enough. The Schwinn Protocol 1.0 is still a good value mountain bike nonetheless.
What I do find strange is the placement of holes for the bottle holder.
It's by design and as this is a dual-suspension frame, there aren't many other places for it. Other manufactures have found better solutions so it's disappointing. Workable but disappointing.
Who Is The Schwinn Protocol Good For?
This mountain bike is a solid entry-level dual-suspension bike, ideal for newbies on a budget.
The Protocol 1.0 model will keep riders happy for years of mountain biking.
There will come a time when you may want to upgrade the Protocol 1.0 for a higher-spec ride. However, for those riders who lead an active lifestyle and want a full-suspension mountain bike with amazing features on a budget, it's a solid option.
One thing worth factoring into your buying decision is that the Protocol 1.0 dual-suspension mountain bike comes with an excellent manufacturer's warranty.
You get a lifetime warranty on the frame. In addition to that, you are covered for one year for every other component than the tires, cables, and tubes.
This won't come as a surprise but I should mention it. The warranty only covers defects and not wear and tear. It doesn't give a new rider peace of mind in their purchase and that's important.
It offers a certain degree of quality from a trusted brand so, in many respects, you know what you're getting, and that's a great bike!
Alternatives To Schwinn Protocol 1.0
If you still haven't made up your mind about the Schwinn Protocol 1.0, let me give you a few alternatives.
Here's a table to give you a quick comparison. We delve a little deeper into the competition below. 
The Mongoose offers something a little different, in the sense that it has bigger wheels at 29-inch.
This comes with pros, in that the mountain bike can achieve higher speeds on the flat more easily. However, if you want precise handling, 29-inch wheels won't give you that.
Don't get me wrong, it won't be difficult to handle but it is noticeably different from the Schwinn Protocol 1.0 men's dual-suspension mountain bike. It's kitted out with knobby mountain tires so traction won't be an issue.
The shifting is different too, rather than using Shimano, Mongoose has opted for an SRAM drivetrain. This isn't a surprise as Mongoose is a mountain bike company through and through and SRAM is used on mountain bikes frequently.
You get a good number of gears, 21 to be exact. There are't as many as the Schwinn but it has a good amount for the majority of riders.
The full-suspension frame is also an aluminum frame so it's similar to the Schwinn Protocol 1.0. In a similar way, you get disc brakes for both front and rear brake - ideal for mountain biking.
Overall, the Mongoose Impasse gives the Schwinn Protocol 1.0 dual-suspension mountain bike some serious competition, with the wheel sizes being the biggest difference.
Again, let's talk about something a little different! This is another dual-suspension system but this time from Gravity.
Wheel size is a big difference here. The FSX mountain bikes have smaller wheels than the Schwinn Protocol 1.0, the latter being 24-inches. This is a little unusual for mountain bikes, but not unwelcome, depending on the type of riding you're doing.
24-inch wheels are good if you're the type of rider who likes to do the more technical things and are nimble.
You will be able to tackle technical tracks easily when you're mountain biking with this dual-suspension mountain bike rather than with the Protocol or Mongoose.
However, the compromise is that you will have to work harder to achieve greater speeds on the flats.
The good thing is that you have an impressive 24-speeds to do that for you with plenty of gears to work with. This model features Shimano trigger shifters and drivetrain so you can feel confident about getting a quality system at an attractive price.
You also get a good braking system, just like the Schwinn Protocol 1.0. So, you can be sure of a relaxing ride, especially with the dual-suspension fork eating up the bumps.
To keep the weight down on the Gravity FSX, it features an alloy aluminum frame and uses SR Suntour forks to help increase your speed and performance.
Overall, the Gravity FSX 1.0 offers you something different from the Protocol 1.0. Whether that's something you want or not will depend on your biking style but expect a nippy ride from this bike, whatever the terrain.
If you're new to mountain biking and want some tips - watch this video from GMBN
Final Thoughts - Is The Schwinn Protocol 1.0 A Good Buy?
Yes!
The Protocol 1.0 dual-suspension mountain bike is a great bike, packed with features, from the double-walled alloy rims to the lightweight frame. You are getting an excellent bike for the money.
The only drawback is the saddle and for some, this will be fine.
This bike will see many riders hitting the tracks and taking on terrain they didn't think they'd be riding on. This makes it a worthy purchase.