Saddle irritation seems to be a thing affecting a lot of people – it could even be the excuse why some women feel biking is just not for them.
Your dream doesn't have to end that way– you can track down the correct saddle with a little consideration and turn frustrating rides into a thing in your history with our guide to the best women's bike saddles.
Roundup of Ladies' Bike Seats
Specifications (L x W x H)
5 Ladies' Bike Seats - Reviewed
Ergon's SM Women saddle was explicitly designed with an emphasis on comfort rather than results in mind for female riders. 
The saddle is quite smooth and is one of the very first things that will catch your eye. The level of padding is comparatively low. Riders often think that a thick level of padding will result in a comfortable experience. However, what riders don't know is that comfort will be short-lived.
During long rides, you might sink into the padding, which builds up numbness and discomfort due to the pressure on the sit bones. The Ergon battles this issue with soft gel padding only in the most required positions.
The center cutout is precisely designed to support female anatomy. It is placed more towards the front to relieve stress on soft tissue.
The read of the saddle or the saddle flanks are slightly raised to support the front pelvic position and perfectly cradle the sit bones. It is also designed to be quite wide so that it can ideally distribute the pressure buildup. This is ideal for riders who assume an aggressive racing position.
If you are into racing and road bikes do check out our best road bike under $1000.
PROS
Raised rear
Wide cut out
Less padding
CONS
Forget your cycling troubles permanently. With the scientifically validated designs, Serfas' RX saddle line is the perfect choice to alleviate pain and discomfort from your soft tissue areas.
Serfas RX saddles combine anatomically centered construction and technology to give you the best in support and safety helping you travel further. 
For dramatically reduced numbness and pain, a profound anatomic cutout is made through the middle of the saddle to assist in optimal blood flow.
The foam which is infused with a soft gel will provide enhanced grip and assistance while lowering unwanted saddle friction and skin irritation. The two saddle halves can rotate with the rider independently to reduce saddle chaffing too. 
Infinite Comfort System (ICS) combines layers of gel, microfiber, and closed-cell foam to give a unique level of support and comfort.
The base of the saddle which is made out of a soft flexible material similar to rubber ensures that the sit bones of the rider never touch a hard spot. Additionally, the saddle flanks are elevated which relieves some pressure as well.
PROS
Elevated rear saddle
Completely cut out in the middle
4 different layers
CONS
It is easy to see early on that this saddle is of excellent quality. The top is made of full-grain leather and is beautifully finished as well as attractively built, resting on the right side of the glamorous instead of being too girly
This saddle is narrower than some, but this should not be linked with a lack of comfort. Broader saddles can be good for short rides, especially in an upright riding position, because there is more to sit on quite simply. 
These saddles, however, can also place the hip bones in an unusual position and may disrupt the pedaling action, particularly at high revs. So, for longer rides, narrower saddles appear to be more comfortable, as they allow the body to find a more comfortable position, allowing the legs to move freely.
The comfort that the Diva Gel Flow offers comes from far more than its design alone. The seat hull is made of a ten percent carbon composite with the rails made of hollow, high-strength steel and integrates elastomer suspension. The feature enables a very slight flex and acts as an absorber of vibrations 
This works with silicone gel that sits in the saddle on top of the variable-thickness padding and all this is built around the cut-out portion.
PROS
Lightweight
Variable padding
CONS
On the comfort scale, one step higher, Terry's Liberator Gel for women is as gentle a touring saddle as you must buy if you're a serious cyclist. 
Many individuals mistakenly think that a soft, squishy saddle is the solution to their seat troubles, but they might start wriggling after an hour because tension is spreading evenly across all areas. 
This saddle is designed to give you all the comfort you need in a thin layer of gel padding, with good multi-density foam support below. With this seat, your legs should be giving out before your genital area.
The Liberator X Gel's ergonomically designed back panel reduces stitching contact points between you and your saddle; a wider contoured rear, deep cutaway, and gel cushioning make it great for touring.
PROS
A thin layer of gel padding
Wide contoured rear
CONS
The Selle SMP TRK lady saddle is designed from numerous research that analyzed the various positions assumed by a cyclist during the different stages of a ride, as well as the regular contact between the body and the saddle. 
Based on these findings, Selle SMP has developed the TRK saddle which prevents squashing of the sensitive parts of the cyclist and increases blood flow to the leg muscles.
The saddle's central stream differs in width to contour the body and helps blood flow to continue circulating. 
With its snout-shaped design, the front portion of the saddle provides excellent support when pedaling vigorously and protects your delicate area from getting crushed during the process. The outer mid-section design for maximizing blood circulation and pedaling power is shaped to follow your thigh muscles. 
The rider's total weight is dispersed all over the saddle to offer comfort without compromising performance. This allows you to produce more power while going more comfortably in the saddle and ride longer.
PROS
Unique snout shape front portion
Highly ergonomic
Multiple colors
CONS
Things to Consider When Buying Saddles for Women
DIFFERENCE BETWEEN SADDLES FOR MEN AND WOMEN
As you are aware, both men and women are structured differently.

Many items in the biking world are deemed 'unisex.' While some ladies do get on with guys' saddles, they are not generally regarded as unisex items – women are sculpted differently from males. The only exclusion comes when we talk about versions of noseless saddles, where there is no padding under the soft muscle.

Women typically have broader sitting bones, so women's saddles are generally wider.

To allow a correct pelvic position (rotated forward) with no excess pressure on soft tissues, women's bike saddles have a cut out in the middle. However, the pressure can also be increased due to less surface area. Although not all females want a cut-out outlet to alleviate pain in the soft tissue, most women find that they are more relaxed with one.

For three good reasons, female cyclists should select "female" specific saddles: female health, anatomical correctness, and comfort.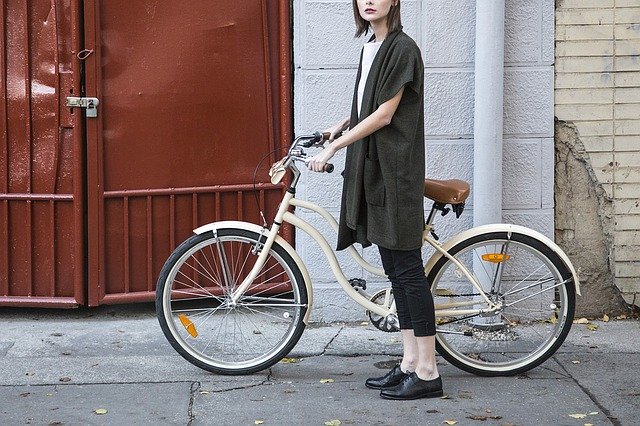 WHAT'S YOUR RIDING POSITION
Your preferred riding style and your agility will affect your choices on the saddle. 
Women who pedal aggressively often bend forward, increasing the strain on their soft muscle 
– especially if they ride a road race or triathlon bicycle or spend considerable amount of time in the drops. Therefore, these female riders are more prone to get on a saddle with a big cut-out, or relief outlet, or an option that is noseless.
By contrast, those who follow a more vertical stance – maybe using a hybrid, or a Dutch bike, or a slightly short reach road bike, will place more strain on the lower parts of their pelvic bones.
 These women may realize they would like a bike seat with a bit more rear padding. But don't plunge into the trap of believing that more cushioning means well – you still need a saddle that fully supports your body mass, instead of a soft fluffy cushion-like saddle that just squeezes under you.
If you're frequently traveling over uneven landscapes, some bike seats come equipped with spring seats. Some of the vibrations can be dampened by the springs and stopped from being transferred to your pelvis region.
EVALUATE YOUR STRUCTURE
Identifying which saddle style might best suit your body is somewhat tricky.
Some companies that have studied soft tissue pain in females have realized that the perfect saddle depends on your body form. 
The shape of women's genitals varies from individual to individual. So, some might require a wider cut-out or relief stream and some might require a narrow cut out – so understand your unique personal structure when looking for saddles.
Take some time to think about exactly what you don't like about your existing model before you buy a new saddle! Do you feel that you settle too much into that? Go easy on the padding. Notice yourself having numbness in the soft tissue region? Look for greater relief to avoid blood circulation loss. Blistering amongst the thighs? Perhaps you need a slimmer nose.
Saddles come in various widths that you can fit to suit you. If you have broader sit bones, you 're going to get better with a broader saddle, while those with narrower sit bones are going to want a smaller width. 
Sitting bone width doesn't have anything to do with your denim size so don't base your saddle width on the label of your garment.
GET A MEASUREMENT
Your seat width should be broader than your sit-bones to provide sufficient protection. Most local bicycle stores also offer a sit bone measurement, or you can do it at home.

A specialist can measure your ischial tuberosity (fancy word for sit bones) and ascertain problems that may not be at all related to your saddle 's design. For example, your saddle may be too far forward, too far back, tilted at a slightly different angle, gravitating over too far, etc.

Which gets us to our next point.
SADDLE ADJUSTMENT
If you feel irritated sitting on your bike, the issue might not be just the saddle. If your saddle angle is incorrect or the range to the handlebar is too large or too deep, similar problems may arise.
For a satisfying ride, the height and angle of a bike seat are equally important. A bike saddle is usually balanced exclusively horizontally, but the majority of cyclists are guided by their feelings when riding.
 Often women prefer to tilt the saddle a bit forward to reduce pressure and stress on the pelvis' soft tissues. Again, the height of the saddle should be adjusted individually, so that in the lower position the leg reaches the pedal, but not the ground. Adjustment of height is not a one-step process but an experiment. It can take time to walk through different saddle heights and test each.
NON-SADDLE RELATED COMFORT ISSUES
Sometimes your current bike saddle might not be the problem.
Badly-fitting shorts are the other likely cause. Cushioned cycling shorts are designed to ease the amount of stress on soft tissues, and they are usually successful when worn correctly – in the right size, without underwear.
However, shorts that are too tight will limit blood flow and you'll feel chafing if they're too loose.
Remember that choosing a ladies' bike seat to fit your individual needs and anatomy is tricky. What works for one person might not work for another. If you consider the criteria we have listed in our guide, it will make the process much easier