Ever come across an all in one shampoo, body wash and facewash guys use? Hybrid bikes are exactly that in the bike world.
Unfortunately, at this point, there are no feature worthy hybrid bikes under $200, so our best hybrid bikes under $200 review includes the cheapest options out there. However, we update the list frequently so if a bike under 200 does pop up, you'll see it on our list first!
Product Roundup
| Header | | | | | |
| --- | --- | --- | --- | --- | --- |
| | | | | | |
| | | | | | |
| | | | | | |
| | | | | | |
Disclosure: As an Amazon Associate cyclingglobal.com earns from qualifying purchases.
4 Best Hybrid Bikes Under $200 – Reviewed
Steel frames aren't that common with mountain bikes and neither are they popular among hybrid bikes. The Schwinn Wayfarer is more of classic hybrid and is therefore an exception.
Classic hybrid bikes are closer to your traditional bikes. Read our hybrid bike guide to find out more.
The retro steel frame used by Schwinn isn't as heavy compared to other steel frames. It can also handle heavier loads than aluminum and carbon fiber frames.
The bikes use 700c road style thin tires which won't do you any justice in off-road situations. Just maybe passive unpaved roads on your daily commute. However, 700c wheels give you the capability to achieve higher speeds.
The bike uses premium front and back alloy V-brakes.
In terms of speed, the bike offers 7 speeds with a Shimano rear derailleur and SRAM shifters. The low number of gears indicates that the bike won't do well trying to climb steep hills, at least not for unfit individuals who require extra assistance from a high number of gears.
PROS
Steel frame – Can handle heavier loads and Study
Rear rack
CONS
A low number of gears
Chances of rust
This bike is closer to modern-day sports bikes and looks aesthetically pleasing. However, though it looks like a mountain bike it is more of a city road bike. It is the perfect example of a road hybrid bike discussed below in our guide section. It is the cheapest bike on our list just about 20 dollars above our price range. It's the closest we can get to our $200 budget, so this probably is the best cheap hybrid bike. The bike is priced at this price range due to its basic components and features.
The bike only offers a single-speed meaning there are no derailleurs on the bike. The bike has a flip flop hub allowing the bike to run on either fixed gear or a single speed. It also comes with alloy pull brakes on both wheels. The bike is made of steel but only weighs 30lbs (13.6kg) which isn't too bad for a hybrid bike but is a bit heavy if you consider it a road bike.
The bike has 700 x 32c Kenda tires. A cool feature is that the front and rear tires are two different colors.
PROS
Sturdy steel frame
Aesthetically pleasing
Affordable
CONS
Components are very basic
Another bike that can be classified as a classic hybrid.
The aluminum frame is designed in such a way that it resembles a lowrider bike straight out of GTA. The high handlebars and low seat posts are designed in such a way so that it can handle heavy loads of up to 300lbs (136kg).
Best of all:
The bike saddle is super comfortable and is heavily padded in dense foam. It is also made of synthetic leather, so expect to not get any saddle trouble for a long time.
Sixthreezero also offers the bike in 4 different speed variations. The bike comes in a single-speed variation, a 3-speed variation, a 7 speed, and 21-speed variation as well. You can pick the number of gears you want depending on your riding requirements. The price also varies with the number of gears, since we are reviewing the cheapest hybrid bikes we will consider the 1-speed version.
The 26-inch wheelset is smaller in diameter than any of the bikes we've reviewed so far but the tires in this bike have a width larger than any of the bikes above. What does this mean to you?
It means that the 2" tires will perform better in off-road conditions than the thin road tires in the bikes above.
But wait:
The front wheel is also detachable which makes it very convenient for storage or transport. All that this bike is missing is a suspension fork.
PROS
Bike rack
Detachable front wheel
CONS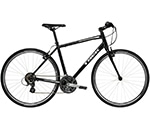 By now, you will know that no bike list is ever complete without an entry from TREK. The TREK FX series is a fitness hybrid bike range perfect for daily commutes, early morning fitness rides or just cruising during sunset.
The aluminum frame comes in 4 sizes ranging from small (15-inch) to extra-large (22.6-inch). The lightweight frame is specifically designed for speed so that you can get the most out of your workout.
Trek FX 1 offers a 21-speed gear system from Shimano. The rear derailleur is from the Shimano Altus groupset and the front derailleur is from the Shimano Tourney groupset. In my own experience mixing components from different groupsets reduces the efficiency of the bike.
The shifter is also from the Shimano Altus groupset and is quite reliable and smooth.
The bike ships with pull brakes which work by squeezing the rim to slow down.
As usual TREK bikes use Bontrager rims and the FX 1 is no exception. These alloy rim with cross spokes are quite strong. The wheel diameter is 700c which is almost comparable to 29-inch mountain bikes, but the issue is the tires are quite thin at 35c or 1.375-inches.
These tires are not going to work in off-road situations at all. The 700x35c tires are perfect road tires but you shouldn't even try off-road biking.
The bike also has no suspension, it is a perfect example of a road hybrid.
PROS
4 different sizes
Strong wheelset
CONS
Uncomfortable seat
Tire thickness could have been a bit higher


Related Posts:

Hybrid Bike Buying Guide
One of the most common questions I get when I talk about Hybrid bikes is 'why can't I use my mountain bike as my commuter bike or vice versa'?
Let me start by saying you definitely cannot use your commuter bike to hit the trails unless you have an extensive insurance plan.
You could use your mountain bike to commute if it has a lockout function for the suspension, but you're not going to get the best of both worlds like you would with a hybrid bike.
Let's look at some of the differences between road bikes, mountain bikes, and hybrid bikes.
Difference Between The Three Types Of Bikes
Let's start with the geometry. Mountain bikes and hybrid bikes have similar handlebars that are flat compared to the handlebars on road bikes which support an aggressive riding position and as commonly referred to as drop bars. Hybrid bikes support an upright posture, unlike road bikes.
Due to similarity in handlebars, both mountain bikes and hybrid bikes have similar braking and shifting layouts.
On the other hand:
Road bikes usually have Shimano Total Integrated style setups.
Braking on all three models is quite similar. You'll either find V-brakes or mechanical and hydraulic disk brakes. Hybrids bikes offer a wide range of gears with triple chainsets and high ranging cassettes for versatility. However, there are some exceptions for hub gear and single speed bikes.
When it comes to tire size, hybrid bike usually sport tires that are wider than road tires and similar to mountain bikes. Road bikes usually have 700c style tires that won't survive off-road situations. Tires on hybrid bikes are in between road tires and mountain tires. They are usually thicker than road tires but lighter and thinner than a mountain bike tires.
The suspension is the most important part of a mountain bike. Mountain bikes come with either full suspension, hardtail, or no suspension at all (rigid). On the other hand, road bikes will have no suspension at all because when there is dampening pedal efficiency is low.
Road bikes are made for speed therefore pedal efficiency is of utmost importance.
Suspension on hybrid bikes is either hardtail or rigid. The front fork on hybrid bikes cannot be compared to the ones on mountain bikes.
Here is a table you can use to compare the three types of bikes,
Types of Hybrid Bikes
There are 3 main types of hybrid bikes.
Classic Hybrid Bikes
These look like classic old-style bicycles with an upright riding position and flat handlebars. They are ideal for urban commuting and for passive off-road situations you would encounter on your daily commute. Almost all classic hybrid bikes come with no suspension.
Road Hybrid Bikes
These look like your modern-day sportbikes. Wider tires than classic hybrids but narrower than rough terrain hybrids. These bikes perform better than classic hybrids in off-road situations. Most bikes have rigid forks while some may have hardtail suspension.
Rough Terrain Hybrids
Unless you closely examine the subtle difference, this type of hybrids looks exactly like your mountain bikes and is the best type of hybrids out there.
Wide tires and hardtail suspension systems make them ideal for mountain biking experiences that aren't too extreme.
Gears
Bikes can range from single gear up to 27 gears. Things get complicated when you start considering features such as chainrings, cogs, the number of teeth, and other components.
For the sake of simplicity let's focus on your riding goals, the type of terrain, your biking experience, and fitness level.
If your terrain has a lot of uphill battles, you'd want more gears for assistance. This again depends on your fitness level and biking experience.
If you're riding on flat terrain most of the time, you probably don't need that many gears. Fewer components mean less weight.
Hybrid bikes have a wide range of gears.
Frame Material
When it comes to frame material it doesn't greatly differ.
Almost all type of bikes are made of 3 types of materials:
Aluminum
The majority of the mountain and hybrid bikes are made of aluminum due to its lightweight yet robustness and affordability.
With the development of new technologies such as butting, aluminum is made even lighter.
Steel
Stronger than aluminum but heavier. Steel bikes are some of the strongest out there, but the weight can be quite an issue.
Carbon Fiber
The lightest types of bikes are made of Carbon fiber. Most road bikes are made of carbon fiber for maximum speed gains. Not many mountain bikes are made of carbon fiber due to its brittleness.
Carbon fiber is most expensive out of the lot.
Tire and Wheel Sizes
Mountain bike tires usually have 26", 27.5" and 29" tires while road bikes come in 700c. While these are two different types of measurements, 700c refers to the French methods while mountain bike sizes are often referred to in the Inch marking methods.
Hybrid bikes often come in a combination of both. In total there are 3 ways of recording wheel and tire sizes.
You can use online conversion charts like this one from Michelin to convert between the three types.
I've tried my best to find the cheapest feature-worthy bikes. Turns out that in this price range, most bikes do not have suspension and are closer to road hybrid bikes than rough terrain hybrids.
Bikes in this range are ideal for entry-level riders who ride occasionally and don't hit extreme off-road trails.