I reviewed 7 of the best cruiser bikes for women to find out which one offers the best riding experience.
As a cyclist who doesn't stick to one type of bike, I like exploring these types of bikes. Cruisers are exciting, they're leisurely, they offer something different and that's good!
My favorite bike ended up being the Sixthreezero Around The Block. As far as cruiser beach bikes go, it ticks boxes for many riders.
But maybe you like something different so let's take a closer look.
The Best Cruiser Bikes For Women Comparison Table
No. of Gears
Single-speedSchwinn Mikko
No. of Gears
Single-speedSchwinn Mikko
Our Top 7 Cruiser Bicycles For Women
Around The Block is a cruiser bike from the well-known brand, Sixthreezero.
The thing I like about Sixthreezero is that they offer a great choice. In this case, it's gear options - a choice between 3, 7, and 21.
That means that this cruiser bike can (and should) appeal to plenty of people. The other great thing about this gearing system is that it uses Shimano components throughout so everything works smoothly and is high-quality.
You can also consider choosing the color for the frame. There are four to choose from (mint green is my favorite but they're equally great).
Cruiser bicycles are known for being heavy but this isn't the case for the Around The Block bike. You get a frame made from aluminum so the weight is kept down at 34lbs.
The look of this bike is clean and for riders who want something simple, stylish, and elegant, this women's cruiser ticks those boxes.
However, the step-over of this bike is higher than most women's cruiser bikes, but not so high that it's unreasonable.
The brakes are quite straightforward. For the front wheel, you get a rim brake. On the rear wheel, it's a coaster brake.
When I first tried using coaster brakes, they were a shock to the system but after some time of getting used to them, it became enjoyable!
I like the fact there you get a rear rack provided on the cruiser bike as this increases your storage options, without any extra cost to you.
Assembly is pretty straightforward. All the tools needed will be included in the box.
Overall, the Sixthreezero Around The Block is a good cruiser bike for women and offers riders the ability to ride in style and quality.
Pros
Rear rack included
Good stopping power from the brakes
Plenty of color options
Limited lifetime warranty
Dual-spring saddle
26-inch alloy wheels
Cons
Instructions can be confusing for some people
If you're looking for a beach cruiser bicycle on a budget then the Huffy Nel Lusso is a fantastic option for you. It ticks a lot of boxes for women riders.
Let's kick off with the design of this bike, it's classic, vintage almost, with the touches of tan everywhere - it genuinely oozes style!
The frame is steel so it is quite heavy at 47lbs.
That is the difference when you use steel, rather than aluminum. Having said that, steel isn't a bad choice as it makes the frame incredibly durable.
When I initially discovered the weight of the Nel Lusso, I was almost put off. The key is to remember what this bike is to be used for. It's a cruiser bike. Weight shouldn't be too much of a factor for this style of bike.
The geometry of the frame is brilliant. It's well-designed and the riding style best suited to women, with a good upright position.
This bike has plenty of features that make it an ideal commuter/city shopper bike. As standard, you get a front and rear rack so you are able to carry heavier goods than usual. To add a bit of class to the whole bike, Huffy has included a beverage holder on the handlebars.
As for gearing, the Nel Lusso runs a single-speed system. This means it's easy to use, with no gears to worry about. For the type of riding this bike is aimed at, no gears are acceptable, though, perhaps this is limiting.
If you don't need any gears, then a single-speed set-up is the ideal solution. It removes the need for additional maintenance.
Huffy uses coaster brakes on this women's cruiser bike so it's suited to beach rides or city roads.
It features 26-inch wheels so in terms of wheel size, it's perfect for women. Anything larger can affect the amount of control you have over the bicycle.
Pros
Plenty of storage options
Upright comfortable riding position for riders
Durable steel frame
Coaster brakes work well
Beautiful vintage design
Price
Cons
For those riders who are concerned with the maximum user weight, the Mikko is a good option as it has a max weight of 300lbs.
In addition to this, you also get the option of different drivetrains. You can choose between single, 3, or 7-speed gear systems.
It's uncommon to see a selection of gears on a cruiser bike.I like that Schwinn has gone down this route as it opens up the possibilities of where you can ride this bike.
The design of the frame is elegant, simplistic, and should appeal to many. The great thing about this cruiser bike is that it's a true step-through frame, meaning that mounting and dismounting can be done with ease and you can wear a skirt/dress with confidence.
With this Schwinn cruiser bike, the rider is placed in an upright riding position, one which is ergonomic and gives you a lot of comfort.
The frame itself is made from steel so it is incredibly durable. However, its downside is the weight. In traditional women's cruiser bike fashion, this bike weighs 45lbs. So it's not the lightest bike around but it's certain to deliver a positive riding experience.
As you might expect from a women's cruiser bike, the Schwinn Mikko women's cruiser comes with a coaster brake so you shouldn't have any concerns about riding it.
To finish it off, you have a variety of color schemes to choose from. That's what I like about Schwinn, as they give the rider enough options. Options with gears and colors on models.
Pros
Durable steel frame
Chainguard
Gearing options
Alloy aluminum wheels
Rear coaster brake
17-inch steel frame
Cons
Lack of rim brakes
Quite heavy
This women's cruiser bike is ideal for ladies who aren't too tall. This bike is suitable for riders up to a height of 5 feet.
It features a rear coaster brake that is going to give you all the braking power you need. This leaves the cruiser handlebars looking smooth and sleek with no brakes or twist shifters ruining the appearance!
No twist shifters means that there are no gears that you'd expect from a beach bike.
The front and rear fenders are statement pieces on this bike. Not only do they add style, but also help to protect you from rain and general road debris.
You get an extremely padded saddle on these cruisers which make leisure rides a joy as you never feel any discomfort.
Overall, the Kulana Lakona beach cruiser bicycle features what you need from a cruiser bike, even down to the durable steel frame.
Pros
Fenders offer a huge amount of protection and add loads of style
Good price
Rubber grips on the cruiser handlebar
Nice wide, padded saddle
Cons
Lack of gear mechanism could be a problem for some
When I said Schwinn gives you options, I meant it! This is why we've ended up with another one from the well-known bicycle brand.
This time we've got a 7-speed women's beach cruiser, the Schwinn Perla.
This bicycle frame is designed to be a comfortable ride, ideal for the beach or city streets alike.
Thanks to the fact this bike comes with gears, it's more versatile than other women's cruiser bikes. So, you will be able to take it wherever you go and even venture up hills.
Schwinn has added a few stylish touches to this women's cruiser. Rather than opting to go for a normal seat design - this one is quilted. Necessary? No. Nice to have? You bet.
Front and rear fenders come as part of the package, and they match the bicycle brilliantly. To be honest, I'd go as far as to say that they enhance the look of the bike.
This Women's cruiser bike has gears. It lends itself to needing better brakes as you are able to achieve greater speeds. Also, when you go up a hill, coaster brakes aren't the perfect bike.
Knowing this, Schwinn has fitted alloy linear pull-brakes (rim brakes) to the Perla. Ultimately, it gives you a better riding experience. Yes, it may add a little to the weight but it's a worthwhile trade-off.
Schwinn didn't stop there with features...
Included on the Perla cruiser bike is a rear rack so you're able to conveniently carry your belongings when you need to. This may sound like it comes as standard but you're not likely to find these extra features (fenders, racks, etc) on a mountain bike or road bicycle. Purchasing independently of the bike can really add up.
Pros
7-speed drivetrain
Rim brakes give you better braking power
Very stylish seat
Plenty of color schemes
The nice low step-through frame
Cons
Assembly has proven to be a bit challenging
Some components aren't high-quality
If you're looking for a bike with a bit of sass in the frame design, then the Kent Oakwood can certainly offer that!
This bike is ideal for women who enjoy cycling around the town, perhaps to the shops, yoga class, or anywhere else.
What stands out about this bike is that it has an aluminum frame so it's pretty lightweight at 40lbs. It doesn't lose much in terms of durability when compared to steel.
Another feature you get is a 7-speed drivetrain, so you'll be able to take on hilly roads if that's your preferred area of riding. Due to the fact that this bike has an aluminum alloy frame, it means hills are perfectly doable.
You're going to need good brakes if you travel up and down hills. The Kent Oakwood doesn't use coaster brakes, it features rim brakes so you can be sure of better braking power. It is operated by hand brakes and you even get a chain cover to keep things neat and tidy.
If you need to adjust the height to get the best fit for a rider, the seat post clamp can be adjusted with ease.
Overall, the Kent Oakwood is a cruiser bike that is ideal for women due to its lightweight frame design. Even though it isn't as traditional as other cruiser bike designs, it fits the bill well and in many ways, it's more versatile.
Pros
Fairly lightweight
Good handling
Hand brakes and rim brakes
7-speed gearing
Affordable price
Cons
Not all components are Shimano
Buyers' Guide: What To Look For When Buying A Cruiser Bike For Women
There are a few features that are knowing about when you're looking for a cruiser bike.
Tires
Width
Tires are important on any bike but when you specifically look at cruiser bikes, think about where you'll be using yours.
Some cruiser bicycles come with wider tires. If you're using your bike to ride on the beach, then that's exactly what you need to give you traction on sand.
Wider tires also give you the advantage of being less prone to punctures. They also provide more comfort.
However, if you're intending to use your cruiser bike on pavements/roads/generally smooth surfaces, look for a more standard width.
Wide tires add extra weight but also increase the rolling resistance. On smooth surfaces, this means you have to work harder to move.
Wheel Size
You will also need to consider the wheel size. Most cruiser bicycles come with 26-inch tires. That's ideal, especially for women - and this is reflected in the tire sizes.
There is the option to go bigger on some bikes, 27.5" and 29" aren't uncommon. The benefits of these are that you are able to reach greater speeds more quickly and easily. The downside is that bikes with these wheel sizes are more difficult to control and depending on your height, can be difficult to mount/dismount.
Frame
The frame on cruiser bikes is often steel. This can make them heavier than mountain bikes and certainly heavier than road bikes.
So why do manufacturers do it?
Stability and handling.
Cruiser bikes have a different set-up from those bikes. They are designed for different purposes. For cruiser bikes, stability is important. Unlike a road bike, speed isn't the aim as such, so the extra weight isn't an issue.
These days, there are more cruiser bikes being made using aluminum alloy. If I'm honest, while I like the tradition of steel, aluminum makes the bike lighter without compromising on durability or stability too much.
An aluminum frame also makes the bike easier to handle when you're on rough terrains, like gravel or dirt tracks.
Frame Size
When you consider the frame size, it's usually the height, which is a measurement from the top tube to the bottom bracket.
Sometimes, this measurement alone is sufficient when sizing yourself up for a bike, but not always. If possible, you should also look at the wheel size.
Below is a guide to help you understand what frame size might work for you. I recommend that you get a bike fit, but failing that, this could work!
| | | |
| --- | --- | --- |
| Frame Size (inches) | Wheel Size | Height Of Rider |
| 15 | 24 | 4'4" to 5'4" |
| 15-21 | 26 | 5'4" to 6'4" |
| 22+ | 26 | 6' and over |
Handlebars
The design of beach cruiser bikes is such that the handlebars are forward-placed, along with the pedals.
What does that mean for the rider?
It means they are closer to the action!
Basically, it gives you a more comfortable position and this reduces the pressure on your back. There is a reason touring motorbikes have an upright approach to their seats. You will be able to sit for hours.
Brakes
On beach cruiser bikes, you are likely to find coaster brakes rather than rim brakes or disc brakes.
It reduces the amount of maintenance required. Once you get used to them, they're a good method of braking.
You won't need a huge amount of stopping power for cruiser bikes. They aren't built for speed, after all, so this is a neat solution.
Gears
No, gears on a women's beach cruiser aren't unusual. To be honest, quite the opposite!
Women's cruiser bikes are ridden with a relaxed cycling experience in mind. There is no dramatic riding with mega climbs.
You shouldn't have to worry about changing gear, just sit back and enjoy the ride. That is the original concept of the beach cruiser bike.
Things have changed and not everyone lives on flat terrain. So to accommodate that, you can now buy cruiser bikes with a variety of gears. The Sixthreezero Around The Bend is a fine example.
The gears can help you comfortably manage hilly terrains. We're only talking 3 to 7 gears, and that should be enough. If you feel you need more, then you should consider looking at mountain bikes.
Saddle
By now, you have worked out that cruiser bikes are about riding in comfort. So, it's no surprise that the seat gets a lot of attention.
The seat on a cruiser bike is often wider than what is found on road or mountain bikes. It often comes with a spring to give that extra dash of comfort.
What Are Beach Cruiser Bikes Good For?
Every type of bike has a different purpose so what are cruiser bikes good for?
Are Beach Cruiser Bikes Good On Hills?
In short, no.
Most cruisers are single-speed, meaning there are no gears, so uneven terrains can be a challenge. Sure, you can climb a hill on a cruiser bike but you have to be fit and it's not ideal.
Then you also have the descent. Cruiser bikes aren't built to go downhill at speed - they don't even have rim brakes or disc brakes. So, for that reason, I wouldn't recommend a beach cruiser if you intend to climb many hills.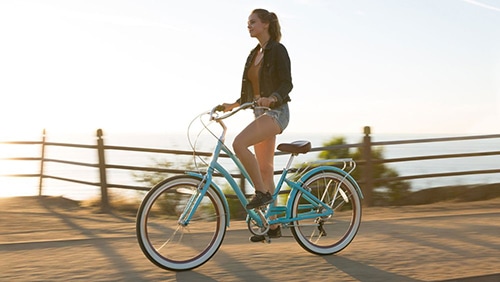 Do Beach Cruiser Bikes Make Good Commuting Bikes?
Yes!
Cruiser bikes give you all the comfort and stability you need on a commute.
The seat will be comfortable, the brakes will be sufficient, the tires are ideal for soaking up bumps in the city or rural roads. The lack of gears means that you have less to worry about with maintenance.
Cruising bikes make you sit upright and are good for commuting in traffic. This is highly advantageous as it makes you more visible.
Can You Do A Long Ride On A Cruiser Bike?
You absolutely can! Comfort is essential on long rides and that's what cruiser beach bikes are made for.
You'll be sitting upright, with your hands and feet in a comfortable position. So, provided you have the stamina and willpower, you can ride for 10 hours a day on your cruiser bike.
While you do sacrifice speed on a beach cruiser, you will be able to keep up with your buddies if they're on a road bike (speaking from experience, I can tell you they will start getting tired much sooner than you will).
Can You Exercise On A Cruiser Bike?
A cruiser bike makes exercising possible for many people who aren't able to ride other types of bikes. This is purely down to the geometry.
Whatever type of bike you're riding, you're going to burn calories, so it will give you a good amount of exercise. The advantage of a beach cruiser is that you can do it on beach roads and take in the nice scenery.
Can Cruiser Bikes Go On Trails?
If trails are what you're after, then I wouldn't recommend a cruiser bike.
The tires on these bikes are designed for flat terrain, aiming to soak up the sand on the beach.
You also have to factor in that cruiser bike models have a frame design that does not lend itself to quick maneuvers. So, you won't be able to get out the way of trail debris, roots, etc.
Trails riders need to be able to move around a lot both in the seat and out of it. That's not the position (well, not easily anyway) with beach cruisers.
Overall, beach cruisers are intended to be used for cruising. They're fantastic for the beach or commuting but they won't suit every situation or everyone.
FAQs
What Is The Best Women's Cruiser Bicycle?
It comes down to what you need. Every woman is different and wants to ride differently.
If you want to take on hills, look for a cruiser bike that has gears, as this will make it easier.
Some people use women's cruiser bikes as commuter bikes. If you're a rider planning on doing this, then consider getting an aluminum-framed women's beach cruiser bike.
What Is The Best Brand Of Cruiser Bikes?
Women's cruiser bikes come in at different budgets and there isn't one standout brand.
Schwinn does a fantastic range of women's cruiser bikes that have plenty of features - many of which will appeal to different people.
Huffy is more of a budget brand but they offer a great riding experience and have good customer service.
You also need to think about what is important to you and what your budget is. There aren't any bad women's cruiser bikes out there. Take a look at my reviews above and it will hopefully steer you in the right direction to find the ideal bike.
Can You Get A Good Workout On A Cruiser Bike?
Yes. The great thing about women's beach cruiser bicycles is that they are incredibly comfortable. These bikes are designed for it, so if you want to spend a long time in the saddle, then a beach cruiser bike is the way to go.
One thing to note is that with women's cruiser bikes, you won't be able to take on monster hills. They're simply not designed for that. But if you want to put in the miles on flat terrain or use this as a city bike, then it's perfect.
At the end of the day, if you're burning calories, you're working out!
Final Verdict
The cruiser bike isn't going anywhere, so if you're looking for that relaxed city commuter bike, then you should be looking at this design.
For me, I love the Sixthreezero Around The Block model. I love the simplicity that the steel frame offers. There isn't anything complicated about this bike, but it's not boring either.
Sixthreezero has struck it bang on.
I love that it features gear options, so you should be able to find a model that suits your terrain and style of riding with ease. It opens up many possibilities.