The Trek Marlin 5 is another popular, good quality hardtail mountain bike favoured by avid cyclists and off-road riding enthusiasts. Garnering a lot of hype, which comes as no surprise; following its predecessor the Marlin 4, the Marlin 5 has been described as ideal for both on and off trail cycling. Now, you may be wondering whether the Marlin 5 really is as great as it claims to be – read on to find out.
Specifications
| | |
| --- | --- |
| Frame and Frame Size | Alpha Silver Aluminum Frame 135x5mm QR |
| Fork | SR Suntour XCE 28 |
| Front hub | Formula DC20 alloy |
| Rear hub | Formula DC27 alloy |
| Rims | Bontrager Connection 32-hole double-walled |
| Tires | Bontrager XR2 29×2.20˝ front, 29×2.0˝ rear |
| Shifters | Shimano Altus M310, 7 speed |
| Front derailleur | Shimano Tourney TY300 |
| Rear derailleur | Shimano Tourney TY300 |
| Crank | Shimano Tourney TY301, 42/34/24 |
| Max chainring size | 1x: 32T, 3x: 42T |
| Bottom bracket | Sealed cartridge, 73mm |
| Cassette | Shimano HG200, 12-32, 7 speed |
| Chain | KMC Z51 |
| Shifters | Shimano Altus EF500, 7 speed |
| Handlebars | Bontrager alloy, 31.8mm, 5mm rise |
| Stem | Bontrager alloy, 31.8mm, Blendr compatible, 7 degree |
| Brakes | Tektro MD-M280 mechanical disc |
| Pedals | VP-536 nylon platform |
| Saddle | Bontrager Arvada |
| Seat Post | Bontrager alloy, 31.6mm, 12mm offset |
| Weight | 32.2lbs (14.5kg) |
| Weight Limit | 300 pounds (136 kg) (Combined) |
Breakdown of Main Features
FRAMESET
FRAME
The frame of the Trek Marlin 5 is durable and lightweight, made of Alpha Silver Aluminum and equipped with a semi integrated head tube. Its internal shift cabling is further protected by brake hose routing. You will also find it equipped with rack and fender mounts which are easy to customize, so that your bike can double up as a commuter as well.
Our review also found that the head tube on the frame is also built at a 69.5 degree angle for better geometry, and to ensure that the bike functions effectively and comfortably in various conditions.
The Marlin 5 has frames that also come in sizes S and XS, and these frames have short reach brake levers, making it ideal as an entry level bike for beginners. This particular build of the bike is also better suited if you have a smaller stature as the brakes are easier to grip, making this smaller frame a better option for children as well!
What's more – smaller made riders will also be more comfortable, as these frames also have a curved top tube and a lower standover height, making mounting and dismounting loads easier.
The standard larger frames (M and ML) are made with a straight top tube, which would suit you just fine if you are a taller rider.
FORK
Rides on slightly rougher terrain can be accommodated with the Marlin 5's Suntour XCE 28 fork with G2 geometry and a 51mm offset. You get up to 100 mm of travel suspension on all models except the XS one, which offers up to 80mm on travel suspension.
The Marlin 5's fork also comes with a preload function so that you can easily adjust the fork to your preference for a smoother ride.
One con that we found was that the fork was just a bit too heavy, especially for beginners who might not be used to carrying around the weight of the bike.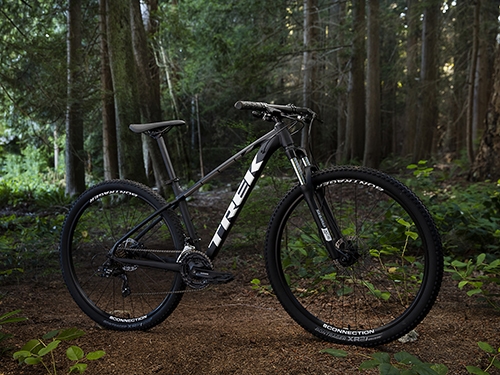 WHEELSET
BRAKES
The Marlin 5 is equipped with Formula DC20 alloy front and rear hubs and Tektro MD-M280 hydraulic disc brakes, These are not commonly seen on affordable models such as the Trek Marlin 5, so you're getting great value for money there, and it is a definite upgrade from the mechanical disc brakes of the Marlin 5's predecessor: the Marlin 4.
The disc brakes also make the bike a good performer in any weather condition, and even on rougher terrain. You will also find that with hydraulic disc brakes, you will require less finger pressure and strength for braking power.
TIRES
The larger wheelsets on the Trek 5 are wide enough to accommodate tires up to 29 inches, whereas the S and XS frames can accommodate 27.5 inch tires. The Marlin 5 comes with double walled, Bontrager Connection rims and have 32 spokes to enable it to endure bumpy riding.
The thick, 2 inch wide tires are built to endure bumpy terrains, with enough traction to survive well in muddy or messy conditions.
A helpful tip to keep in mind! These wheels are not compatible with tubeless tires, however they do come with pretty strong Schrader Valve Tubes that usually don't get worn out too easily.
DRIVETRAIN
As a great entry level bike, the Marlin 5 offers compatible features for a beginner, such as its quality Shimano drivetrain and components. Its drivetrain comprises of 21 speeds on a 3×7 drivetrain, with Shimano Tourney front and rear derailleurs, and its drivetrain shifters are Shimano Altus.
You could extend the lifespan of these components with proper care, although that might be a bit difficult considering this is a mountain bike meant for adventures! Its good to note that these components could wear out pretty fast and you may have to replace them if you're heavily into off-road riding.
That being said, if you're buying the Marlin 5 as a beginner bike, and if you mainly take your bike out for weekend spins and everyday commutes, then you should be fine.
BONTRAGER PARTS
Trek equips its bikes with components of its own make as well, under the brand Bontrager. On the Trek Marlin 5, you will find the Bontrager brand on the saddle, seat post, handlebars, grips and stem. The stem is Bontrager alloy, 31. 8mm 7 degree Blendr compatible.
The best part about this is that all these parts are totally compatible with Trek bikes, since they are made in-house and according to the exact specifications of their bikes, so you won't have to worry about whether the parts are going to be right or not.
While the Bontrager parts are great, keep in mind that the handlebars are not tapered, and as a result, you might be met with a challenge if you ever choose to upgrade the suspension fork.
Now, you may be wondering, how does the Marlin 5 measure up against the other members of the Marlin family? Let's take a look at the features of the Marlin 5 as compared to that of the 6.
What is the Difference Between the Trek Marlin 5 and 6?
Having delved deep enough into our Trek Marlin 5 review, let's take a look at your other option; the Trek Marlin 6. First of all, let's look at the key differences between each model:
The 5 is equipped with Shimano Tourney front and rear derailleurs, whereas the 6 comes with Shimano Tourney components, which are a groupset higher than that of the Marlin 5. Unlike the 21 speeds that can be found on the Marlin 5, the 6 is a 16 speed bike.
The 6 also comes with an SR Suntour XCT 30 fork, which, due to its hydraulic lockout feature, is more superior than the SR Suntour XCE 28 found on the Marlin 5.
In terms of similarity, both bikes have fairly similar Bontrager parts.
The 6 falls into a slightly higher price range than the Marlin 5, so if money is not a constraint, then the 6 may be a better option for you as it is a slightly more advanced mountain bike.
If your needs for the bike are quite simple or this is your first buy, then read on to learn more on why the Marlin 5 might be an option for you.
Is Trek Marlin 5 a Good Bike? The Final Word
The Trek Marlin 5 is a great bike, but how great it actually is would depend on your purpose for the bike. If you're just getting into cycling as a beginner, then the Marlin 5 acts as a superb first buy as an entry level bike, with its ease of use and user friendly structure.
In addition to this, it also falls into a pretty affordable price range, so you get superb value for money with the features that the 5 offers. Examples of this include the aluminum frame and hydraulic disc brakes, which are not commonly found on bikes this affordable.
It would be ideal for you if you are just getting into riding on tough terrain, or starting to explore biking as a sport. It's a great bike for you to test and improve your cycling skills on before getting a more hardcore bike for serious mountain biking.
You can take your bike out for rides on single or double tracks and bike parks and on trails that don't need excessive technical skill.
With its hydraulic disc brakes, you can easily ride down slopes and downhill terrain. It's probably best to stay away from any slopes that are too steep or challenging, though!
It's also perfect for anyone who cycles for leisure or exercise, and is also a great option for commute. You can explore trails with ease too, because unlike hybrid bikes, the 5 comes with sustainable suspension.
The Marlin 5 also comes as a specially designed women's bike with the fork and other components modified to better suit female riders.
Like all Trek products, the Marlin 5 also comes with a lifetime warranty.
While the 5 is a good mountain bike, you have to be aware that it is not compatible with jumps of any kind as it doesn't have such advanced Technical Trail Features, and jumping could cause the wheels to bend. For this reason, if you are an adrenaline junkie with a lot of experience in rough mountain biking, this may not be the best option for you.
This is also mainly because the components on the 5 are more suited for a beginner or for easy off trail riding. Anything too rough could lead to the components being worn out soon or breaking, and you'll then have a lot of upgrading and replacing to do, For that reason, it's probably better to invest in a bike specially tailored for more challenging trails.