The Marlin 5 is a brilliant, off-road-ready 29″ (73.66cm) bike which has a minimal cost but gets the work done on various types of terrain, such as smooth and off-road paths.
Entry-level riders often face a difficult choice — buy a compact and convenient city bike for commuting or a genuine MTB for thrill and off-road adventures. You can do all of that with the Trek Marlin 5. The 29er has a genuine trail-blazers roughness but also has the potential to double up as a daily use bike to take on quick city commutes.
One of the main benefits of Marlin 5 is the low cost. The Marlin is affordable and falls in the budget range. Still, even at such a price, there is a lot to be excited about.
Full Specifications
Marlin 5 features an impressive aluminum body intended for off-road use, nice comfortable front suspension, stocky wheels and tires, hydraulic disc brake systems, and much more.
This is one of the better-valued models from the TREK series 'Marlin', providing several upgrades over Marlin 4 which is an entry-level bike and is cheap. Read on to find out our comparison towards the end
The entry-level bike is ideally suited for new riders trying to do a little of all and too much of nothing.
| | |
| --- | --- |
| Frame | Aluminum(TREK Alpha Silver series) |
| Weight | 32.2lbs (14.6kg) |
| Fork | Coil Spring SR Suntour |
| Rear Derailleur | Shimano Tourney |
| Front Derailleur | Shimano Tourney |
| No. of Gears | 21 |
| Shifters | Shimano Altus |
| Crank | Shimano Tourney |
| Brakes | Tektro Hydraulic Disc |
| Tires | Bontrager XR2 |
| Rims | Bontrager Connection |
Breakdown of Main Features
LIGHTWEIGHT BODY
The size of the frame factors significantly for your degree of comfort, whether you are trail riding or only cycling for commuting. Always check the size chart that goes with the bike.
The trek marlin 5 weighs a mere 32.2lbs(14.5kg)
All the bikes from this lineup have the Alpha Silver Aluminum frame used in all TREK bikes. It is defined by a flexible 69.5-degree angle of the head tube which constitutes a reasonable compromise among a steep and slack design. This ensures that in most conditions this bike will do well
All wires are routed internally which makes them last longer and enhances the bike's overall look.
Trek Marlin 5 is available in three sleek and appealing colors along with seven frame sizes. There's a Marlin 5 for everybody out there.
BOUNCY FORK
The front suspension is critical for comfort and a smooth ride as well as the safety of your bike if you intend to ride on slightly bumpy terrain. Suspension forks largely depend on the model, but you should expect suspension travel from 80 to 120 mm for a good entry-level hardtail in this budget range.
The Marlin 5 has a low rated coil spring SR SUNTOUR fork. This fork is pretty heavy but new riders won't notice a difference due to lack the lack of experience and will like it, as it provides plenty of comfort.
Only the preload feature is available when it comes to adjustability, so you can dial the fork to suit your needs and guarantee a smoother experience and better sensitivity.
The 13.5′′ frame size comes with a travel of 80 mm, whereas all other frame size has a travel of 100 mm in the fork.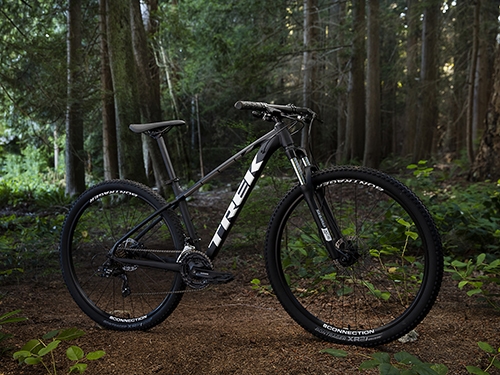 SHIMANO MIX MATCH
The derailleurs are the key points for change on the Trek Marlin 5. Namely, front and rear derailleurs of the Shimano Tourney groupset are not very long-lasting or accurate. They drive a 21-gear drivetrain.
They could last years, depending on how you take care of them. If you're not cautious, however, and you transition under tension, they might give in. Still, that's not something a newbie would have to worry about when taking the Marlin 5 out on weekend adventures and weekday commutes.
The shifters are however Shimano Altus, which is higher than Tourney in the groupset hierarchy.
Moreover, it is not a big investment to update the complete groupset to a higher value groupset.
HYDRAULIC DISK BRAKES
Hydraulic disc brakes in an entry-level bike will make any owner happy. Compared with the cheaper Marlin 4 which comes with mechanical disk brakes, this is the biggest change.
Hydraulic disk brakes provide a substantial improvement in strength and accuracy in stopping. They need less force input from your fingers but deliver more output power.
Trek has taken a step further and fitted the 13.5′′ & 15.5′′ models with short-reach brake levers to fit smaller-handed riders.
BONTRAGER – THE IN-HOUSE EXPERT
Bontrager is the in-house brand of Trek which produces many parts and components. In the Trek Marlin 5, the Bontrager label can be seen on the saddle, seat post, handlebar, grips, system, wheels, and tires
The 27.5-inch wheels are amongst the most common in use today. The 29ner is famous for some, but it doesn't suit all kinds of riders. The greatest advantage about 29″ (73.66cm) wheels is that on some trails they can increase grip and stability
The stocky Bontrager wheels and tires are among the first features you'll notice on the Marlin 5. The frames of 13.5′′ and 15.5′′ size come with 27.5′′ wheels, whereas 29′′ wheels come with all the larger frames.
The 32 spoke Bontrager Connection wheels are pretty strong, and they're double-walled which means they can stand some abuse. The Bontrager XR2 tires on 27.5″ (69.85cm) wheels are 2.20′′ (5.6cm) wide. When it comes to 29′′ (73.66cm) wheels though, the rear is at 2.0′′ (5.1cm) narrower. The XR2 tires are not tubeless
The Bontrager wheels and tires are a little heavier than normal but they will take you anywhere you guide the handlebars once you get them to go.
Comparison
Considering the amount of money you need to invest and the value of this bike, the Trek Marlin 5 is a smart choice.
Let's see how the Marlin 5 compares to its predecessor and successor in the trek marlin series.
TREK MARLIN 4 VS MARLIN 5
The major difference is in the brake system. The marlin 5 has a hydraulic disc compared to inferior mechanical disk system in the marlin 4.
Other than the bikes are pretty much the same with minor differences.
TREK MARLIN 6 VS MARLIN 5
To start, the Marlin 6 is a 16-speed bike compared to the Marlin 5. Both the rear and front derailleur are from the Altus groupset which is higher the Shimano Tourney groupset in the Marlin 5.
Marlin 6 uses an SR Suntour XCT 30 which is way better than SR Suntour XCE 28 in the marlin 5 due to the hydraulic lockout function.
The Bontrager components are quite similar in both the bikes.
The Marlin 6 only costs 100 dollars more than the Marlin 5 and would be the better buy if you can accommodate a $100 increase in your budget.
If Marlin 5 is your first mountain bike or you don't have high expectations, it should meet your needs.
That being said, this bike is not suitable for dirt Jumping, free riding, or MTB touring. The minimalist design and lightweight aluminum frame provide an amazing experience, but perhaps it's less when you need to pull a bunch of things around as the bicycle is not well suited for traveling. Nevertheless, you can fit the bike with some additional front and back racks.
However, too many modifications (like racks) may degrade the quality.