I reviewed the entry-level Trek Marlin 5 bike and compared it to similar bikes - how did it fair?
As an experienced rider, I know what it takes to make a good bike, whether that's a top-of-the-range road bike or an entry-level mountain bike.
Overall I found the Trek Marlin 5 to have plenty of positives, including hydraulic disc brakes and Shimano derailleurs - honestly, it doesn't stop there!
For a more in-depth look, continue reading my Trek Marlin 5 review!
Full Specification
| | |
| --- | --- |
| Frame | Alpha Silver Aluminum, internal routing, chainstay disc brake mount, rack and kickstand mount, 135x5mm QR |
| Fork | SR Suntour XCE 28, coil spring, preload, G2 Geometry w/51mm offset on 29ers, 100mm travel (13.5: 80mm travel) |
| Front Hub | Formula DC20 alloy |
| Rear Hub | Formula DC27 alloy |
| Rims | Bontrager Connection 32-hole double-walled |
| Tires | Bontrager XR2, 29×2.20˝ front, 29×2.0˝ rear (13.5 & 15.5: 27.5×2.20˝) |
| Shifters | Shimano Altus M310, 7 speed |
| Front derailleur | Shimano Tourney TY300 |
| Rear derailleur | Shimano Tourney TY300 |
| Crank | Shimano Tourney TY301, 42/34/24 |
| Bottom bracket | Sealed cartridge, 73mm |
| Cassette | Shimano HG200, 12-32, 7 speed |
| Chain | KMC Z51 |
| Pedals | VP-536 nylon platform |
| Saddle | Bontrager Arvada |
| Seatpost | Bontrager alloy, 2-bolt head, 31.6mm, 12mm offset |
| Handlebar | Bontrager alloy, 31.8mm, 5mm rise |
| Grips | Bontrager XR Endurance Comp, lock-on |
| Stem | Bontrager alloy, 31.8mm, 7 degrees, Blendr compatible |
| Headset | 1-1/8˝ threadless, semi-integrated, semi-cartridge bearings |
| Brakeset | Tektro HD-275 hydraulic disc (13.5 & 15.5: Tektro HD-276 short reach lever) |
| Weight – M | 14.59 kg / 32.17 lbs (with tubes) |
| Weight limit | This bike has a maximum total weight limit (combined weight of bicycle, rider, and cargo) of 300 pounds (136 kg). |
Key Features
Alpha Silver Aluminum Frame
Trek Marlin 5 comes with an impressive alloy frame and things are kept tidy with the cables being internally routed.
For an entry-level bike, this is most surprising (but also welcomed!). It is rare to see internally routed cables. I love it, it makes the bike look sleek and it stops the cables from collecting dirt and becoming damaged.
SR Suntour XCE 28 Suspension Fork
It comes with 100mm of travel suspension so when faced with rougher terrain, it excels. There isn't a moment when things feel too demanding for the Marlin 5 thanks to the SR Suntour XCE 28.
Bontrager Arvada Saddle
Trek appears to like to kit their bikes out with Bontrager components and you won't hear me complaining! This saddle is there to give you comfort on long days riding and it works well for the commuter too!
Shimano Tourney 21 Speed Drivetrain 
It's common to see Shimano Tourney components at this price point. The quality is good and you have options!
You can either choose between a 3 x front derailleur or if you wish to reduce weight, you can opt for a 1 x Shimano Tourney at the front.
Which one should you choose?
Choosing the 3x will give you greater flexibility but more to think about. The 1x system will reduce the number of gears but allows you to spend more time focusing on your riding.
I favor 1x systems for their simplicity. When you're mountain biking, needing to changing the big ring can be one thing too many to get used to, especially if this is your entry-level bike and therefore your first!
If you're looking where the bike could be upgraded in the future then it could be the Shimano Tourney TY300 parts. Whilst they are decent and they are certainly a fantastic starting point, there are better options out there. A small upgrade in the future could see you finding it easier to climb hills.
Tektro HD-275 Hydraulic Disc Brakes
Hydraulic disc brakes on an entry-level bike? Trek has nailed it.
For beginner riders out there, hydraulic disc brakes are (for many, not all), the best type of braking system there is.
A slight touch on the brake levers is all you need to get a response...you don't get that from mechanical discs or rim brakes.
I came to fully appreciate hydraulic disc brakes going down Coll de sa Batalla for the first time, where I gripped on like my life depended on (it felt it did).
Since then. No turning back for me, there's only one form of brake system for me!
Bontrager XR2 27.5/29 x 2.2/2.0" Tires
Another Bontrager component!
These tires are of brilliant quality and they excel on mountain roads as well as gravel.
A downside to them is that they don't perform as well when things get muddy.
Wheel Sizes
There are different wheel sizes depending on the bike size you get.
The XS frame comes with 27.5" wheels.
Whereas, anything above that frame size gets 29" wheels.
At 5'4 in height, a lot of manufacturers would like to see me on 27.5" wheels, however, I ride 29ers on my MTB. I find this to be more comfortable and I don't feel hindered by having larger wheels.
What I'm saying is, test some bikes out, get a feel for what you like. Rules are there to be broken!
Frame
As I briefly touched upon earlier, the Marlin 5 comes with an alpha silver aluminum frame.
An alloy frame is a popular choice within this price bracket as it doesn't add extra weight to the bike as a steel frame would but it provides a good level of durability for a mountain bike.
Whilst you do get a good amount of durability, you have to factor in that this is a bike on a budget and it can't take on everything. It isn't designed for jumping so this is something to keep in mind if you're wanting a bike for serious trails.
All of the cables are internally stored in the bike, helping it to have a cleaner, more stylish look as well as improve the durability of the cables. 
The bike is available in three attractive colors, including black, green, and teal. These shades are uniquely beautiful and well-selected, so every cyclist will find the right color for them.
You can add a rear rack and kickstand to the Marlin 5's frame, which makes this model a great choice for commuters, as well as adventurous cyclists. 
Do keep in mind that if this mountain bike was made of carbon fiber, it wouldn't weigh the frame down as much, but the Trek Marlin 5 would come in at a much higher price point.
On Which Terrain Does The Trek Marlin 5 Perform Well?
We have to keep in mind that the Trek Marlin 5 is an entry-level machine so it isn't designed to be ridden by an expert rider, taking it on challenging trail riding.
Saying that the Marlin 5 is capable of rougher terrain and it works well as a trail bike. I'd always suggest that you check what the difficulty levels are before you hit the trail.
[Want some beginner tips? Check this out]
Bontrager Components
Let's clear something up for beginner riders getting into mountain biking.
Trek fits their bikes with 'Bontrager' parts. This is a Trek brand and made in-house.
For some brands, this isn't a sign of quality, yet this isn't the case here. Bontrager is a sign of quality.
On the Trek Marlin 5, Bontrager features a lot; the seat, seat post, handlebars, grips, and stem.
The stem is Bontrager alloy, 31. 8mm 7-degree Blendr compatible.
One of the best things about using these parts is that they are truly compatible across the Trek range of bikes.
As they are made by Trek, for Trek, the parts are made with the precise specification of their bikes so everything will fit seamlessly together!
For beginner riders, this is perfect as you won't need to give much thought about whether you're buying the correct parts.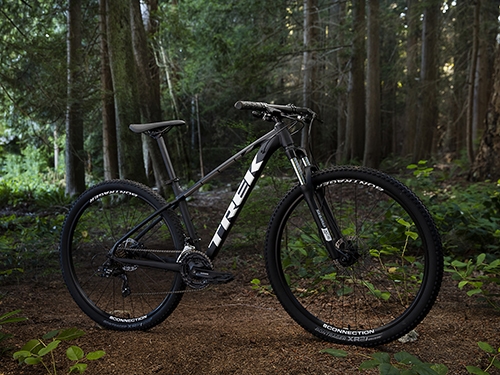 [Check out this video from Trek for an overview of the range.]
Alternatives To The Trek Marlin 5
Without a doubt the Marlin 5 is feature-rich but how does this entry-level mountain bike compare to other bikes?
Trek Marlin 5 Vs Marlin 6
The first difference has to be the cost, the Trek Marlin 5 comes is quite a lot less than the 6 - this makes it an ideal first trail bike for those new to mountain biking, or those on a budget.
Having said that for trail riders looking to spend a bit more money, you do get a durable fork, a 2x drivetrain - including a better groupset and you even get a lighter bike!
One thing I do like with the Trek Marlin 6 is that there is the option to have either a man's frame or a women's. Whilst I find that women can ride men's bikes, it's nice to have an angled top tube.
You also get more options to customize certain features, so if you fancy a different wheel size, then the Marlin 6 can cater to that.
The standout benefit would be the upgrades with the fork - the fork on the 6 is a fair bit lighter than that on the Marlin 5. This reduces the weight of the bike, making biking trails or the commute easier.
Equally, the fork has a lockout and preload function so you are able to completely lock the fork to increase how efficiently you pedal - making your adventures easier!
Trek Marlin 5 Vs Giant Talon 3
The Giant Talon 3 has some good reviews and they're well deserved. In a lot of ways, these entry-level bikes are similar so are there any features that set them apart?
When compared to the Marlin 5, the Talon 3 seems to offer more traction when pedaling. This could potentially mean that as a rider, you don't feel as safe underfoot on the Trek Marlin and you could find that you're more likely to slip.
Though, the Trek Marlin 5 does give you a greater range of color types to choose from. So for trail riders who want to make their bike their own, the Trek could be the way to go.
There is a difference in wheel size too, with the Trek Marlin 5 you get 29" wheels, whereas Giant Talon 3 gets 27.5". Which one is better will come down to what you want from a bike.
The 27.5" wheels do mean the bike is lighter, which could be an appealing bicycle option to the commuter, beginners, or anyone who wants a bit more control!
Both hardtail mountain bikes have plenty to offer and the specifications are similar. For me, it all comes down to wheel sizes and the experience you want when you're cycling.
[Want to read more about the Talon 3? Find out here.]
Trek Marlin 5 FAQs
Can I Do Tabletop Jumps On The Trek Marlin 5?
The Marlin 5 is part of Treks' entry-level range and is not suitable to be taken on any type of jumps.
The wheels and tires are not designed to cope with jumps and could bend, even on a small jump so don't try it!
Can I Use Tubeless Tires On The Trek Marlin 5 bike?
Unfortunately not. The wheels aren't compatible with tubeless tires.
However, the wheels and tires are robust and suit mountain bikes well.
Does the Trek Marlin 5 have lockout suspension?
The Marlin 5 doesn't have a full lockout suspension. You do get a coil spring that has a pre-load adjuster though.
[Here are some ideas for when you really want to push yourself! 😉 ]
Related Posts:
Final Thoughts
If you're wanting performance on a budget, there are plenty of plus points from this 29er.
The aluminium frame and Shimano Tourney components give the Trek Marlin 5 something to shout about.
Let's not forget the hydraulic disc brakes, making them ideal for dirt roads or a commute in any weather conditions. Braking at all speeds shouldn't be an issue with disc brakes.
Overall I have positive things to say about this bicycle. All terrains, mountains, trails, or commutes, the Trek Marlin 5 can do them all!