A bike can be converted into an e-bike by installing a conversion kit. This will provide the bike with a motor, powering it through either the front wheel or the rear wheel.
As a true e-bike convert, I was keen to explore the world of converting your old bike into a powered bike. E-bikes are incredibly popular and the sales are only set to continue so I too wanted to make the switch!
In this guide we'll be looking at how to convert a bicycle into an electric bicycle, and the process of deciding which kit is right for you, including:
What exactly conversion kits are
What different types of motors are available and how they attach to the wheels.
The difference and variety in battery types and knowing which products are best for you
The Pros and Cons of turning bikes into e-bikes
My final thoughts
What Is An E-Bike Conversion Kit?
In basic terms, a conversion kit is an engine placed on a special tire of the bike.
The engine then works with a battery - ideally a lithium type.
With a lot of kits, you will get an LCD display, this will show you some of the settings and the battery life. Depending on the kit you choose, further information may be available to you.
This LCD display on most systems is attached to the handlebar grips of your bike - giving you easy access to all of the switches and options.
Transforming your regular bike to an electric bike involves you installing the kit - that's it! However, this doesn't mean you won't have to work to move around, some pedaling will still be required from you.
The good news is that you don't have to pedal as much. So when it comes to commuting or cycling in hotter weather, you can look forward to sweating less whilst going at a better speed!
What You'll Get From A Conversion Kit For An E-bike
It's worth noting is that you are likely going to have to purchase a battery separately from the kit.
This is actually a good thing...!
The battery is one of the most important parts of an electric bicycle so getting one that suits you so what you want to set out to do. Being able to choose yours is a lot better than having to settle for the parts that don't suit you and simply came with the kit. Not to mention, this will bring up the cost...for something you may not want to use!
Makes sense now? Nice!
So let's look at the general features and how they operate.
The type of hub you get will vary - so which option should you go for?
Front Hub Motor
Front hubs are the most popular and least expensive type on the market.
Installation isn't often complex - no experience necessary!
You rarely need tools. Any tools you do need are often included.
A front wheel will come as part of the product and you put that on your bikes, replacing your current bike.
After that, the wires need to run from the hub to the controller and you're all set for riding!
Rear Hub Motor
This kind of electric bike conversion is to be installed on the rear wheel.
Rear and front hubs work in similar ways.
However...
If you can stretch to a rear hub motor, it is the better choice for a lot of cyclists.
Why?
The distance between the hub and the rear rack is less so less wire and as the hub motor is at the rear of the bike, it helps to provide stability and balance.
Friction Drive
Friction drive conversion kits operate by pushing the rear wheel along.
Installation is simple, which may sound appealing to some people but I will say that if you intend to use your bike in wet conditions, you won't find these kits terribly easy for cycling!
As the rubber on the electric bike wheels gets wet, it can become slippery so the friction is lost. As these motors are friction drive, this doesn't bode well and as such acceleration, traction, and pedaling become fruitless with these machines.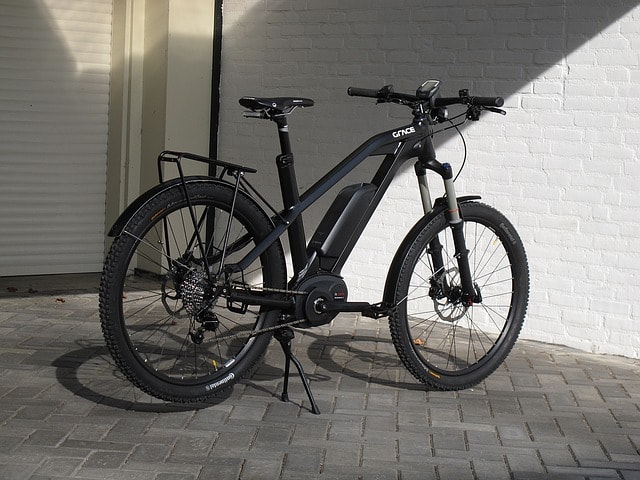 How To Choose The Best Battery For E-bikes
I mentioned earlier that the battery is a key component of electric bicycles. It's good to think about the voltage and capacity so that's what we'll do!
Voltage
An electric bicycle needs to have 12v, although you can find e-bikes with 24v to 72v.
What does that mean for you?
In essence, the higher the voltage, the more power you're going to have and the great speed your bike will be able to go.
I have no doubt some of you now will be wanting to go for the highest voltage you can find (or is that just me!?) but hold your horses.
If you're wanting a conversion kit for your bike to ride around the city or town, you probably won't need anything greater than a 24v battery.
That isn't me saying don't go for it, if you want speed, to take your bicycle further, or venture into mountain bike terrain then between 36v and 48v could be better suited.
To be honest, 48v is the most the majority of riders will ever need. Anything greater than that is going to come at a bigger cost and that battery output may never be used.
Amps
Potentially equally as important as voltage are the amps. This will be looking at the capacity and the distance you can cover on your e-bike.
Capacity is often measured in amp-hours or watt-hours. When you're looking at an e-bike conversion kit, you are likely to stumble across 10Ah as it's pretty common!
You will need to think about weight. Not only the weight of the bike but your weight and the weight of anything else you carry, a backpack for example.
The additional weight the bike has to carry, the greater pressure is being put onto the frame, hub motor, control panel and battery box.
The result?
You're going to run out of juice sooner than you may expect.
20Ah or less will be adequate in a lot of cases. Rough terrains and long rides are where you should think about going higher for your bike.
Watts are a common measurement, these are calculated by multiplying the voltage and the capacity together.
The number you get will be the number of kilometers per hour you can cover on your bike on a single charge.
As a rule, this translates to the greater number of watts, the further you can go without the need to recharge.
Which E-bike Conversion Kit Should I Get?
It comes down to how you will be using your electric bike.
If you use your bike every day for short rides, then the output doesn't need to be great - unless speed is important to you.
Should you fall into that category, then a kit that is around 350w and 10Ah should be ideal. Depending on weight, of course, you should be able to get around a 50km range.
If you're looking to undertake longer rides on your electric bicycle or simply do tougher rides on challenging terrains then you may want to consider a stronger motor. Around 500 to 700Wh and 40Ah should serve you well!
Depending on your budget and if you want to splash out, you could get yourself an e-bike conversion kit that has an LCD display system.
This type of system usually comes with neat features such as GPS and gives you access to an in-depth control panel.
Installation Steps
Each kit will differ slightly when it comes to the motor installation, every brand does things and has different systems differently but the principle is similar across the board.
So it's best to consider this as a general fact sheet and guide!
Step 1
Based on your cycling goal and uses (and the advice I've given you hopefully!!) choose your kit and relevant components.
Step 2
So your 'donor bike' or the bike you're using to convert must be strong enough to take the weight of the motor, the batteries, and you (plus anything else you carry).
Smartening up your old faithful could give you a fabulously smart end product of a bike so that's always nice to do!
Step 3
Time to install the motor. The guidelines ought to be provided by the manufacturer - spend some time following these steps - the goal is to get the job right the first time!
A front-wheel version will instruct you to change the front wheel and connect up the motor, along with any components such as wires.
If you're using a mid-drive motor, it is usually attached with a bracket onto the frame.
For the rear wheel systems, an issue can come from the derailleur coming off - perhaps have someone on hand to assist you at this point?
Whether you're going for a rear-wheel or front-wheel hub motor, your should now have your motor in place and position.
Step 4
Now you have the motor installed, it's time to install the switches. You want to get the switches close to each other and on the handlebars, ideally close to the gears and brakes so you can push them easily to achieve a variety of speeds.
You're probably going to need a screwdriver to install the switches.
Connect the wires up to the motor. Smarten the components up by using the zip-ties.
Step 5
With everything connected, it's time to enjoy your new steed!
Providing all steps and details were followed, you should be ready to cruise the roads again!
That's it, 5 steps to converting your bikes to give your bike a new lease of life.
All you need to remember is that installation isn't difficult...getting the right kits can be!
Here is some further help from the guys at EMBN.
Pros Of An E-bike Conversion Kit
No need to sell up! If you're like me, you love your current bike, possibly even attached to it. A conversion kit means you can keep your old bike.
A conversion kit costs less than the price of an e-bike.
It's surprisingly easy to install the kit. Instructions are clear and usually, all the tools needed are included so you can be cycling in no time!
If you get to a point where you do want to change your bike, you can transfer the kit over to your new bike. Maybe even keeping your old bike!?
A conversion pack often comes with at least a 1-year warranty.
Cons Of An E-bike Conversion Kit
Though the performance of the bicycle is improved, it never feels the same as an electric bike.
The motor and battery box will add weight to your bike. This can make it harder to move it around, carry it upstairs, onto trains, etc.
A small point, you may find that your tires will deflate more quickly than they used to. Nothing dramatic, just an extra PSI or two a week due to the additional weight of the motor.
The Bottom Line
For many converting your old bicycle into an electric-powered bike is a great way to assist your pedaling effort.
In addition, it also allows others to cycle to places when they'd otherwise take a car so they can be great for the environment.
Converting can be done at a fraction of the expense of purchasing some of the ebike models. Installation is easy and you don't need a wealth of knowledge before you can get back out and ride again.
Want to explore a bit further into the electric cycling world? Here is a guide to the best conversion kits for the money for you to take a look at!